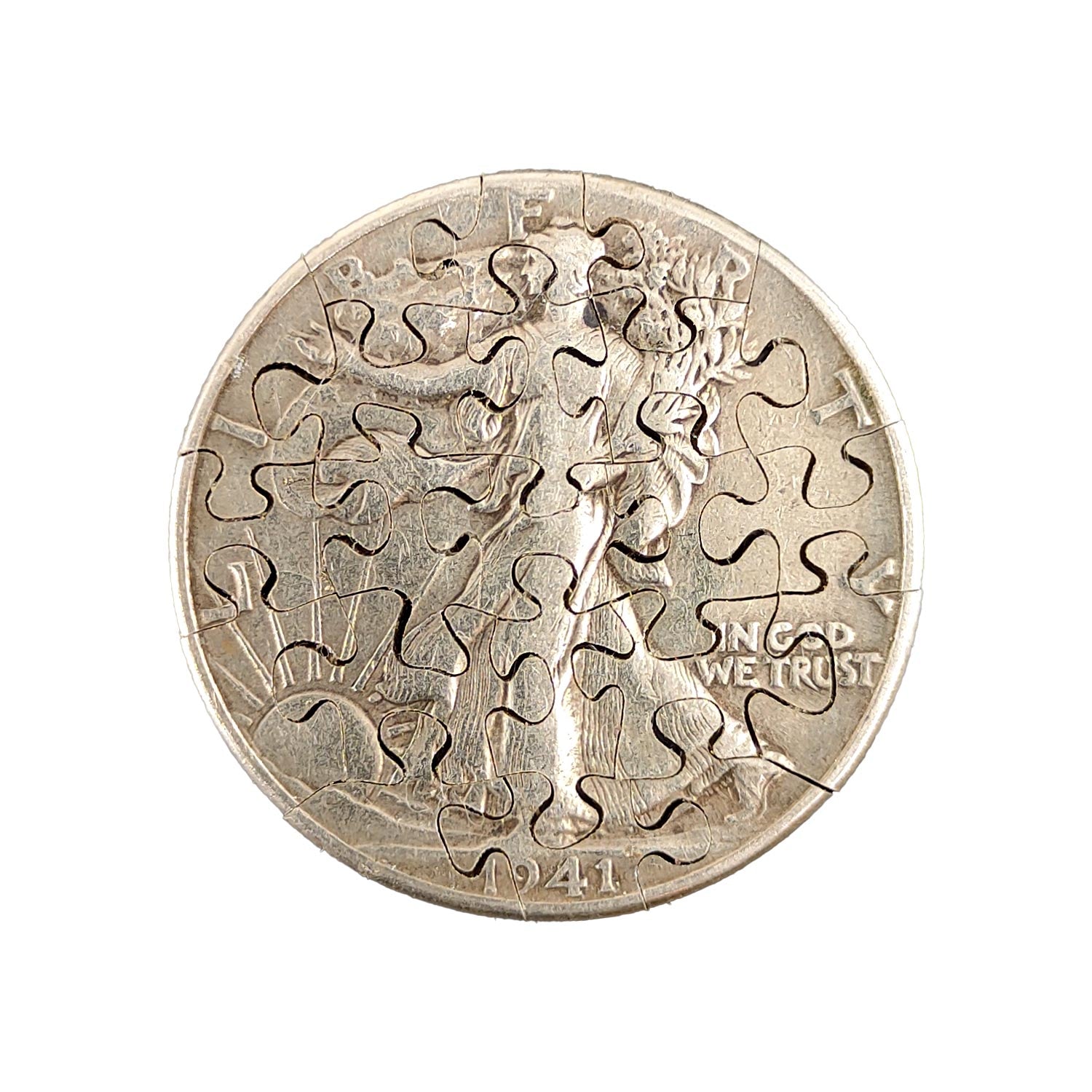 US Currency Half Dollar (50 Cents) 21-Piece Walking Liberty Coin Jigsaw Puzzle
---
---
Experience the pinnacle of craftsmanship with the meticulously crafted US Currency Silver Jigsaw Puzzle, a masterpiece that combines art, history, and precision.

Crafted from authentic Walking Liberty Half Dollars, each puzzle piece represents a piece of numismatic history. The silver half dollar's timeless beauty and rarity make this puzzle a true collector's dream.

With extreme attention to detail, our artisans carefully hand-cut each of the 21 pieces, ensuring that no two puzzles are alike. This meticulous process not only guarantees the uniqueness of your puzzle but also transforms it into a challenging and satisfying assembly.

The puzzle's miniature size adds an extra layer of charm and intrigue, making it a delightful and captivating experience for puzzle enthusiasts and collectors alike. As you piece together this extraordinary puzzle, you'll discover the artistry and craftsmanship that defines each element of the Walking Liberty Half Dollar.

To preserve and display your treasure, our US Currency Silver Jigsaw Puzzle is elegantly packaged in a 2x2 plastic coin display case. This protective case not only showcases your completed puzzle but also ensures its long-lasting beauty for generations to come.

Immerse yourself in the time-consuming process of crafting history one piece at a time. Explore the world of numismatics, relish the satisfaction of assembling a true work of art, and own a piece of history with our US Currency Silver Jigsaw Puzzle. Discover the thrill of piecing together the past, one coin at a time.
US Currency Half Dollar (50 Cents) 21-Piece Walking Liberty Coin Jigsaw Puzzle
Our Commitment
Packaged Securely
We pack each order carefully and passionately. Every package comes with maximum protection possible - just like how we like it.
Track Anywhere
We ensure that every package sent is fully trackable anywhere, anytime - leaving you worry free.
RunIt Experience
We strive to bring you the best experience possible. If you're not happy with your service, or something is wrong with your order, just let us know and we'll do our best to make it right. Contact Support
Customer Reviews
Authentic reviews from verified customers after their purchase.