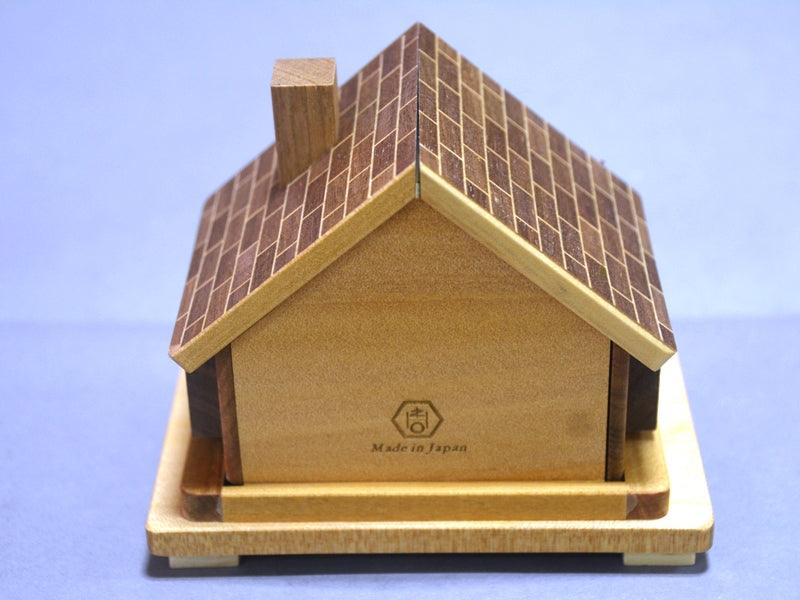 Yosegi 7 Steps House Traditional Japanese Secret Box
---
---
Description

INFORMATION

FAQ
Introducing the House Secret Box, a mind-bending puzzle experience that's as intriguing as it is visually stunning. Inspired by the enigmatic Japanese "Himitsu-bako", this unique creation takes the form of an adorable house-shaped box that holds a captivating secret within.

With just seven steps to unlock the hidden treasure, it strikes the perfect balance between challenge and enjoyment, keeping you hooked and engaged throughout the experience.

But it's not just the puzzle that will leave you in awe – this secret box is a true work of art. Meticulously crafted with exceptional attention to detail, its flawless finish and superior quality make it a standout piece in any collection. You can't help but admire the Japanese craftsmanship that went into creating such a remarkable puzzle box.

Presented in a thoughtfully designed pressboard gift box, it's the perfect surprise for puzzle enthusiasts and those who appreciate a touch of mystery. And with its compact dimensions of 120 x 75 x 95mm, this little house of secrets is ready to take its place as a conversation starter on your shelf or desk.

Material: Natural Wood
Dimension: 120 x 75 x 95mm
What is a secret box?

A secret box is a type of box that is designed to be opened only by solving a specific sequence of movements or manipulations. These boxes are often made of wood and have a hidden compartment or mechanism that can only be accessed by correctly opening the box.

What is the difference between a secret box and puzzle box?

Unlike puzzle boxes, which are typically solved through a logical sequence of steps, a secret box may or may not have a logical solution to open it. Additionally, while puzzle boxes often require a series of intricate and time-consuming steps to solve, a secret box can sometimes be opened with just one or a few simple movements.

One of the most defining features of secret boxes is their hidden seams or mechanisms that allow the box to be opened. These mechanisms can be quite intricate, making the opening of the box an interesting and rewarding experience. Secret boxes come in a wide variety of designs, ranging from simple boxes with a hidden compartment to elaborate creations with intricate internal mechanisms.
Yosegi 7 Steps House Traditional Japanese Secret Box
Our Commitment
Packaged Securely
We pack each order carefully and passionately. Every package comes with maximum protection possible - just like how we like it.
Track Anywhere
We ensure that every package sent is fully trackable anywhere, anytime - leaving you worry free.
RunIt Experience
We strive to bring you the best experience possible. If you're not happy with your service, or something is wrong with your order, just let us know and we'll do our best to make it right. Contact Us
Customer Reviews
Authentic reviews from verified customers after their purchase.