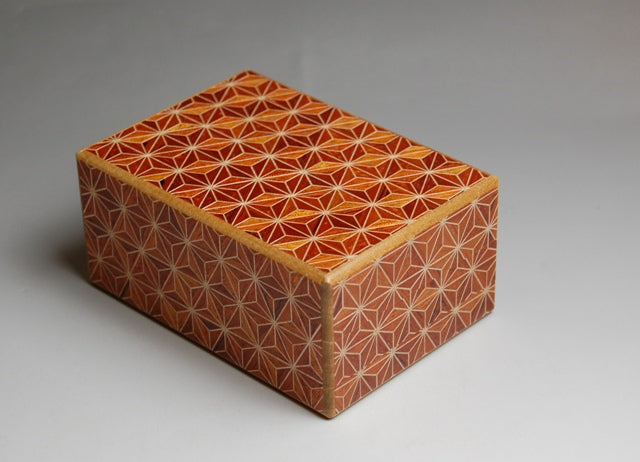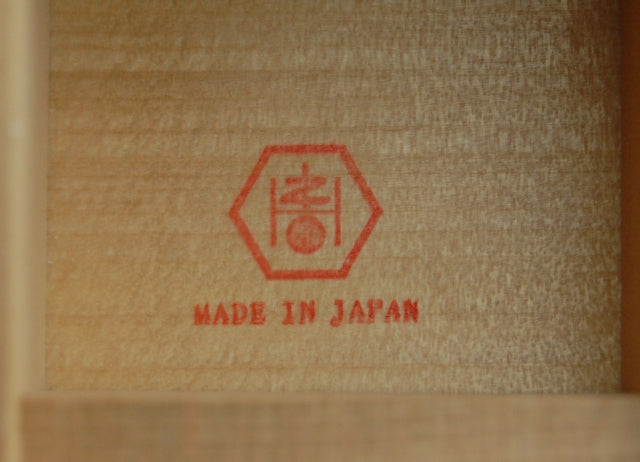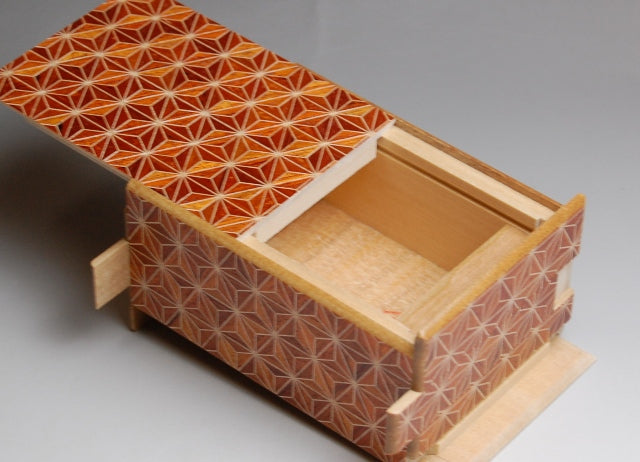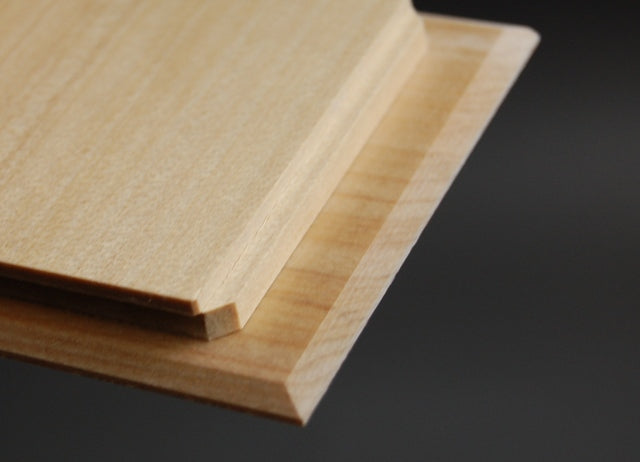 Yosegi 21 Steps Akaasa Traditional Japanese Secret Box
---
---
Description

INFORMATION

FAQ
Introducing the Yosegi Traditional Japanese Secret Box – a true testament to the exquisite craftsmanship of Japan. This meticulously crafted box requires 21 steps to open and showcases the beauty of Yosegi, a high-quality wood renowned for its exceptional quality and durability.

Immerse yourself in the world of fine Japanese artistry as you behold the particularly nice finish of this secret box. Every detail has been carefully considered to ensure a product of utmost quality and visual appeal. From its smooth surfaces to its precise construction, this puzzle box is a testament to the mastery of its creators.

Stamped with the distinctive mark of IZUMIYA, a symbol of authenticity and heritage, this puzzle box is a cherished treasure. Presented in an elegant gift box, it's ready to be shared with loved ones or added to your own collection. Opening instructions are thoughtfully included, guiding you through the fascinating process of unlocking its hidden secrets.

Handmade in Japan, this secret box embodies the essence of traditional Japanese craftsmanship. The intricate Yosegi pattern adorning the box's cover, known as "Akaasa," showcases the rich cultural heritage of the region. Each piece of wood is skillfully arranged to create a visually captivating mosaic that tells a story of artistry and tradition.

With its dimensions measuring 80x120x55mm (3.15x4.72x2.17 inches), this secret box is perfectly sized for display on a shelf, desk, or as a conversation piece in any setting. It's a delightful blend of aesthetics and mystery, inviting you to experience the charm and intrigue of Japanese puzzle boxes firsthand.
Material: Natural Wood
Dimensions: 80 x 120 x 55mm
What is a secret box?

A secret box is a type of box that is designed to be opened only by solving a specific sequence of movements or manipulations. These boxes are often made of wood and have a hidden compartment or mechanism that can only be accessed by correctly opening the box.

What is the difference between a secret box and puzzle box?

Unlike puzzle boxes, which are typically solved through a logical sequence of steps, a secret box may or may not have a logical solution to open it. Additionally, while puzzle boxes often require a series of intricate and time-consuming steps to solve, a secret box can sometimes be opened with just one or a few simple movements.

One of the most defining features of secret boxes is their hidden seams or mechanisms that allow the box to be opened. These mechanisms can be quite intricate, making the opening of the box an interesting and rewarding experience. Secret boxes come in a wide variety of designs, ranging from simple boxes with a hidden compartment to elaborate creations with intricate internal mechanisms.
Yosegi 21 Steps Akaasa Traditional Japanese Secret Box
Our Commitment
Packaged Securely
We pack each order carefully and passionately. Every package comes with maximum protection possible - just like how we like it.
Track Anywhere
We ensure that every package sent is fully trackable anywhere, anytime - leaving you worry free.
RunIt Experience
We strive to bring you the best experience possible. If you're not happy with your service, or something is wrong with your order, just let us know and we'll do our best to make it right. Contact Us
Customer Reviews
Authentic reviews from verified customers after their purchase.