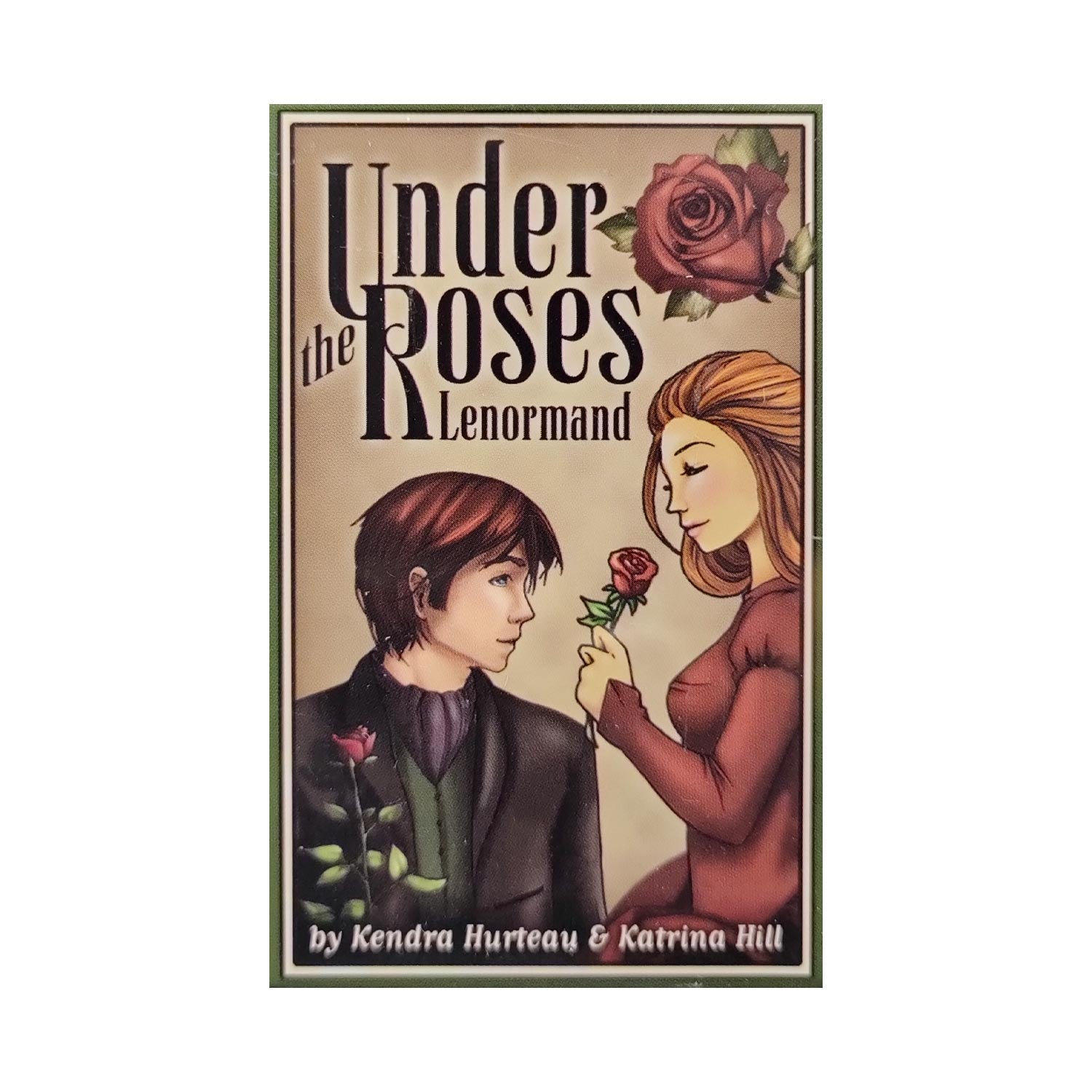 Under the Roses Lenormand Cards
---
---
Description

INFORMATION

FAQ
Discover the buried secrets in Under the Roses, a charming 40-card Petit Lenormand deck.  For each card an iconic image is presented with delicate, sepia- toned illustrations. In addition to the 36 standard cards, this deck includes alternate cards for the Child, the Gentleman, and the Lady.

The 60-page booklet offers keyword summaries for each card., as well as instructions and diagrams for reading with the Lenormand method, guiding the reader through basic techniques, two-card combinations, spreads, tableaux,  and advanced techniques.

Under the Roses Lenormand was created by the mother-daughter team of Kendra Hurteau and her daughter Katrina Hill, a graphic designer and digital illustrator. Together they have produced four other Lenormand decks.

From the booklet :

"Under the Roses" is a euphemism for buried secrets. The allusion comes from the Latin phrase Sub Rosa, which dates back to classical Roman times when the rose became the symbol of confidentiality and secrets. The expression became well known in German literature, eventually finding its way to English literature in the nineteen century.

The cards in the Petit Lenormand are used in combinations to extrapolate meanings and identify past, present, and future influences on your life. The Lenormand Deck is diverse; it can be used to address life's deep issues or for mundane inquiries. It's great for gatherings or parties, as well as individual readings.

The origins of the Lenormand Oracle stem from the reputation of Mlle. Lenormand, an infamous card reader who died in 1843. The Petit Lenormand was named after her and published not long after her death.
Author: Kendra Hurteau and Katrina Hill
Artist: Kendra Hurteau and Katrina Hill
ISBN: 9781572817609

What is the difference between Tarot, Oracle, and Lenormand?

Tarot decks are the oldest and most well-known type of divination decks. They consist of 78 cards, divided into the Major Arcana (22 cards) and the Minor Arcana (56 cards), and are used to provide insight into the past, present, and future. Each card has a unique image and symbolism, and readers use their intuition, knowledge of the cards, and other divination techniques to interpret the meaning of the cards.
Oracle decks, on the other hand, are a more modern type of divination deck that does not follow a specific structure or format. They can vary widely in terms of the number of cards and the images and symbols used. Oracle decks can be designed around specific themes, such as angels, animals, or chakras, and are often used to provide inspiration and guidance for personal growth and spiritual development.
Lenormand decks are a specific type of divination deck that originated in Germany in the 19th century. They consist of 36 cards, each with a simple image and meaning. Lenormand decks are used to provide practical guidance for everyday situations, such as work, love, and health, and are often used in combination with other divination techniques, such as tarot or astrology.
Under the Roses Lenormand Cards
Our Commitment
Packaged Securely
We pack each order carefully and passionately. Every package comes with maximum protection possible - just like how we like it.
Track Anywhere
We ensure that every package sent is fully trackable anywhere, anytime - leaving you worry free.
RunIt Experience
We strive to bring you the best experience possible. If you're not happy with your service, or something is wrong with your order, just let us know and we'll do our best to make it right. Contact Support
Customer Reviews
Authentic reviews from verified customers after their purchase.