Tin Woodman's Heart is a mechanical box with a customizable code lock. The code consists of three words and out of the given options you can shooed the combination that suits you best. You can keep it romantic and set the key to I LOVE YOU or TAKE MY HEART or you can set it to a fun message like I LOVE BEER. There are 8 words on each of the three gears and more than 50 possible combinations. Tin Woodman's heart is a great present which can also be used as a sophisticated gift packaging.
Size: 78 x 76 x 38 mm
This unique present will get right to the heart of your dear person!
POSSIBLE CODE SENTENCES
You can make it romantic and leave the code sentence as "I love you" or you can set it as a fun message e.g. "Open my beer". There are 8 options/words on each gear and you can use all possible combinations to set the key sentence which suits you the best. Here are the options for words to use in your code sentence:
Gear 1: I, SAVE, I'M, YOU'RE, FIND, BE, TAKE, OPEN
Gear 2: LOVE, HATE, BEST, SWEET, MY, YOUR, WANT, LUCKY
Gear 3: YOU, PUZZLE, HEART, SEX, JULIET, BEER, VEGGIE, ROMEO
Here are some ideas for your inspiration: Take my heart / I want you / I love puzzle / I hate puzzle / I hate veggie / Be my Romeo or Juliet/ Open my heart / I want sex  /You're sweet heart etc :)
If you decide to change the code sentence, please make sure you don't forget the one you set ;)
HOW TO OPEN THE HEART
To open the heart you need to know the combination of three words. The default code for the heart is I LOVE YOU. After setting the right words, pull the arrow and open the lid of the heart. See the photo and the video explanation below.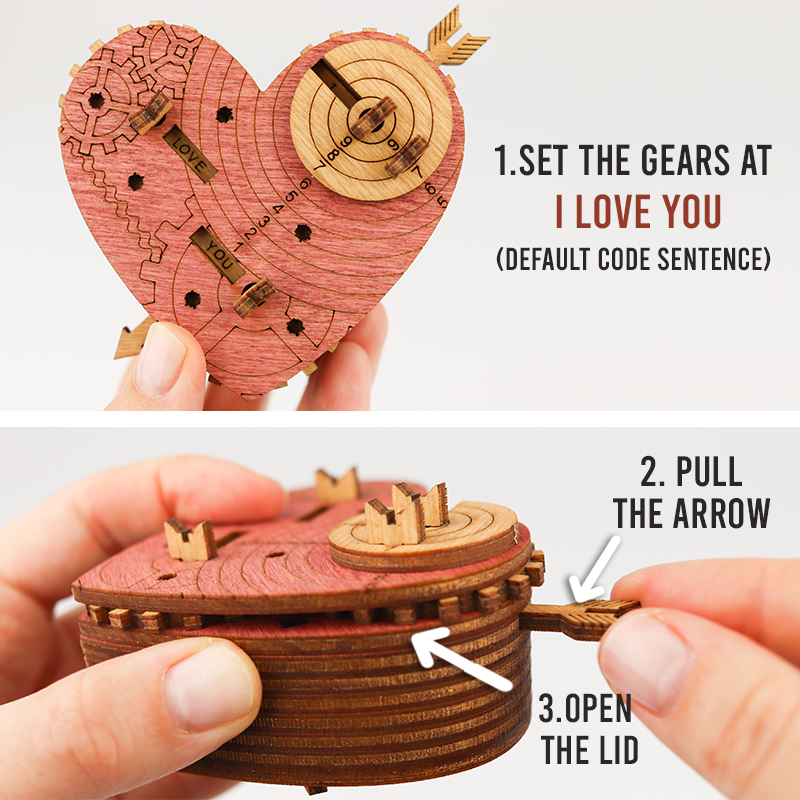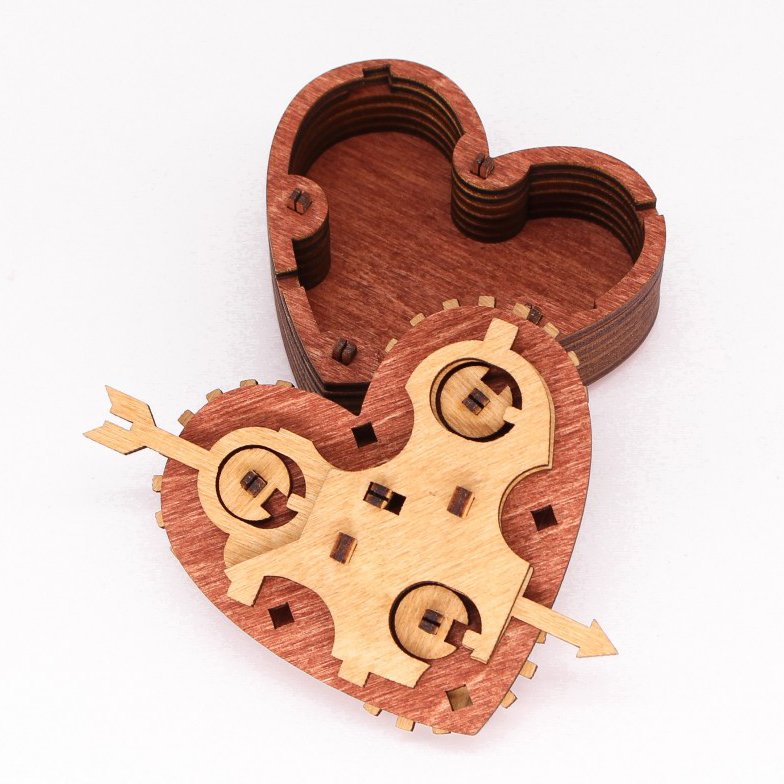 HOW TO CHANGE THE CODE SENTENCE
The code sentence can be changed in less the 2 minutes if you follow the three steps below.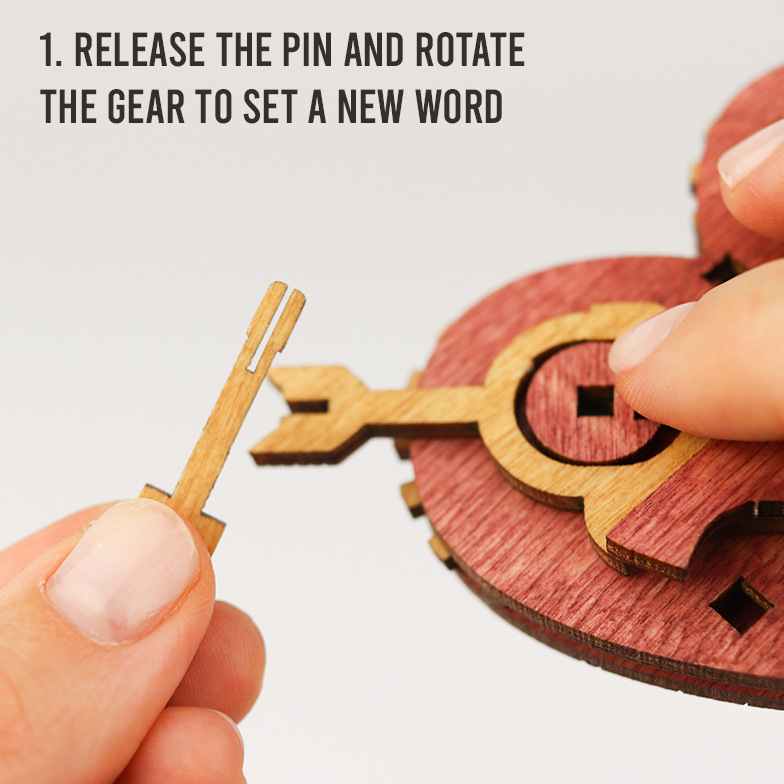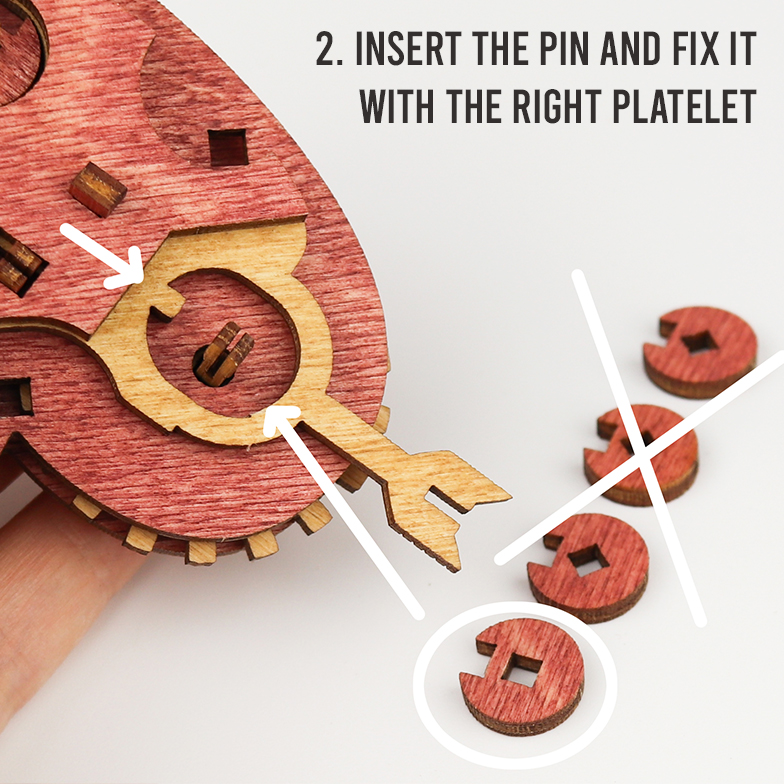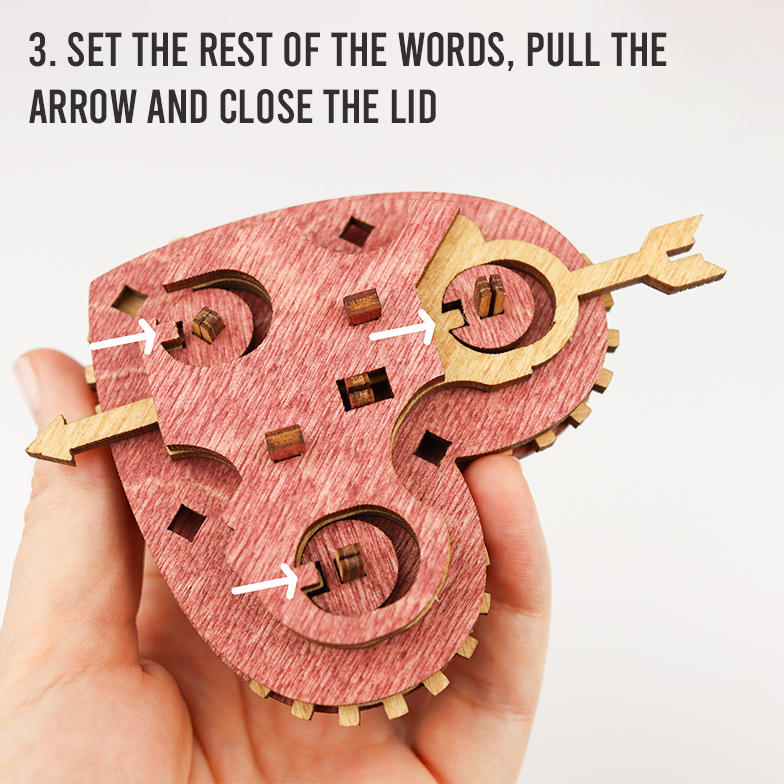 Material: Birch Wood
Dimensions: 7.8 x 7.6 x 3.8cm
Tin Woodman's Heart Puzzle Box
Shipping and Delivery
Metro Manila
Delivery
Order Amount
Fee
Same Day Delivery
(11AM - 7PM)
-
Calculated at checkout
Regular Delivery
(1-3 Working Days)
0 - 999php
120php
1,000php and above
FREE SHIPPING
Rizal Areas

Delivery
Order Amount
Fee
Regular Delivery
(1-3 Working Days)
0 - 999php
120php
1,000php and above
FREE SHIPPING
Outside Metro Manila

Delivery
Order Amount
Fee
Regular Delivery
(3-7 Working Days)
0 - 999php
180php
1,000 - 1,599php
80php
1,600php and above
FREE SHIPPING
Rest of the World

| | | |
| --- | --- | --- |
| | Delivery Time | Delivery Fee |
| FedEx Priority | 5 Business Days | Calculated at checkout |
Accepted Payments
Cash on Delivery
Pay upon receiving your package. For Philippine orders only.
Bank/Online Transfers
We accept transfers/deposits to the following banks:
-Banco de Oro (BDO)
-Bank of Philippine Islands (BPI)
-Metrobank
Mobile Wallets
We accept instant transfer via the following mobile wallets:
-GCash
-Grabpay
-Paymaya
-Paypal
Debit and Credit Cards
We process debit and credit card payments securely via Paypal and Paymongo.
Our Commitment
Packaged Securely
We pack each order carefully and passionately. Every package comes with maximum protection possible - just like how we like it.
Track Anywhere
We ensure that every package sent is fully trackable anywhere, anytime - leaving you worry free.
RunIt Experience
We strive to bring you the best experience possible. If you're not happy with your service, or something is wrong with your order, just let us know and we'll do our best to make it right.