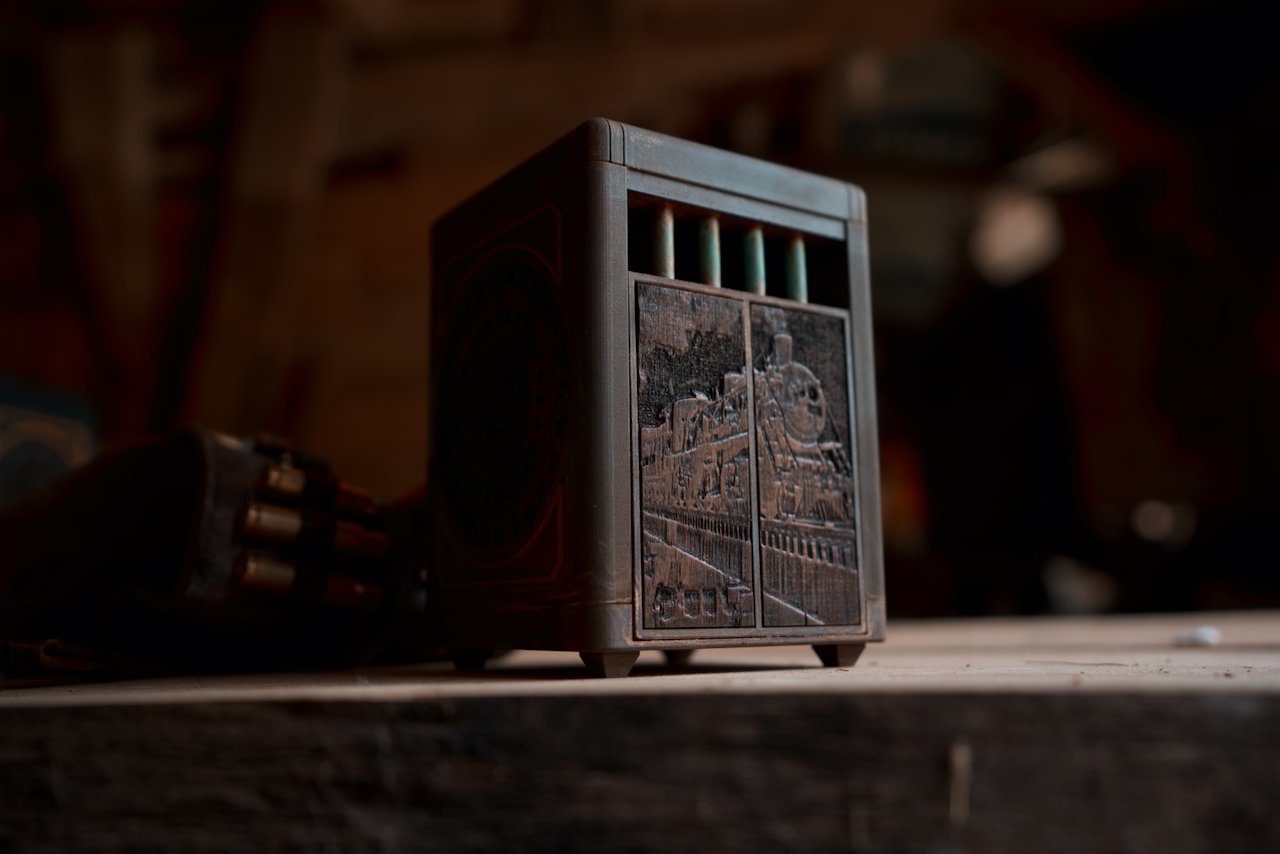 The Lost Vault of Jesse James Sequential Puzzle
---
---
Description

INFORMATION

FAQ
Limited edition. Numbered 383 out 500.
An extraordinary sequential discovery puzzle box that will transport you into the captivating world of the infamous outlaw, Jesse James. Designed by the brilliant mind of Jesse Born, with invaluable contributions from Joshua Gant, Ben Oxenford, and Christina Born.

Crafted with meticulous attention to detail, The Lost Vault Box stands at an impressive 17 x 13 x 13cm, making it a substantial and visually stunning piece. The combination of metal infused PLA, wood, and brass materials lends an air of authenticity and ruggedness, perfectly reflecting the spirit of the Wild West.

Limited to just 500 puzzles worldwide, The Lost Vault Box offers an exclusive and coveted experience for puzzle enthusiasts. Each box is meticulously handcrafted, ensuring that every detail is perfect, making your ownership of this extraordinary puzzle a truly special and unique privilege.

Praised as the best puzzle of 2022 by the renowned Chris Ramsay, The Lost Vault Box is not only a captivating challenge but also a testament to its ingenuity. Unleash your inner detective as you unravel a web of riddles, mastermind combinations, and discover secret moves that will lead you closer to uncovering the secrets within. With each twist and turn, you'll find yourself drawn deeper into Jesse James' legendary world, fueling your determination to conquer this exceptional puzzle.

Experience the thrill and satisfaction of conquering The Lost Vault Box. This extraordinary puzzle box is not just an object; it's an immersive journey that will leave you captivated, amazed, and craving more.
Materials: Metal Infused PLA, Wood, and Brass
Dimensions: 17 x 13 x 13 cm
What are mechanical puzzles?

Mechanical puzzles are physical puzzles that involve manipulating objects or mechanisms to solve a problem or reach a goal. They come in different forms, such as disentanglement, assembly, and sequential movement puzzles.

What's the objective of this puzzle?

This puzzle requires you to figure out how to separate the pieces and put them back together, using your problem-solving skills to find the right sequence of movements.
The Lost Vault of Jesse James Sequential Puzzle
Our Commitment
Packaged Securely
We pack each order carefully and passionately. Every package comes with maximum protection possible - just like how we like it.
Track Anywhere
We ensure that every package sent is fully trackable anywhere, anytime - leaving you worry free.
RunIt Experience
We strive to bring you the best experience possible. If you're not happy with your service, or something is wrong with your order, just let us know and we'll do our best to make it right. Contact Us
Customer Reviews
Authentic reviews from verified customers after their purchase.