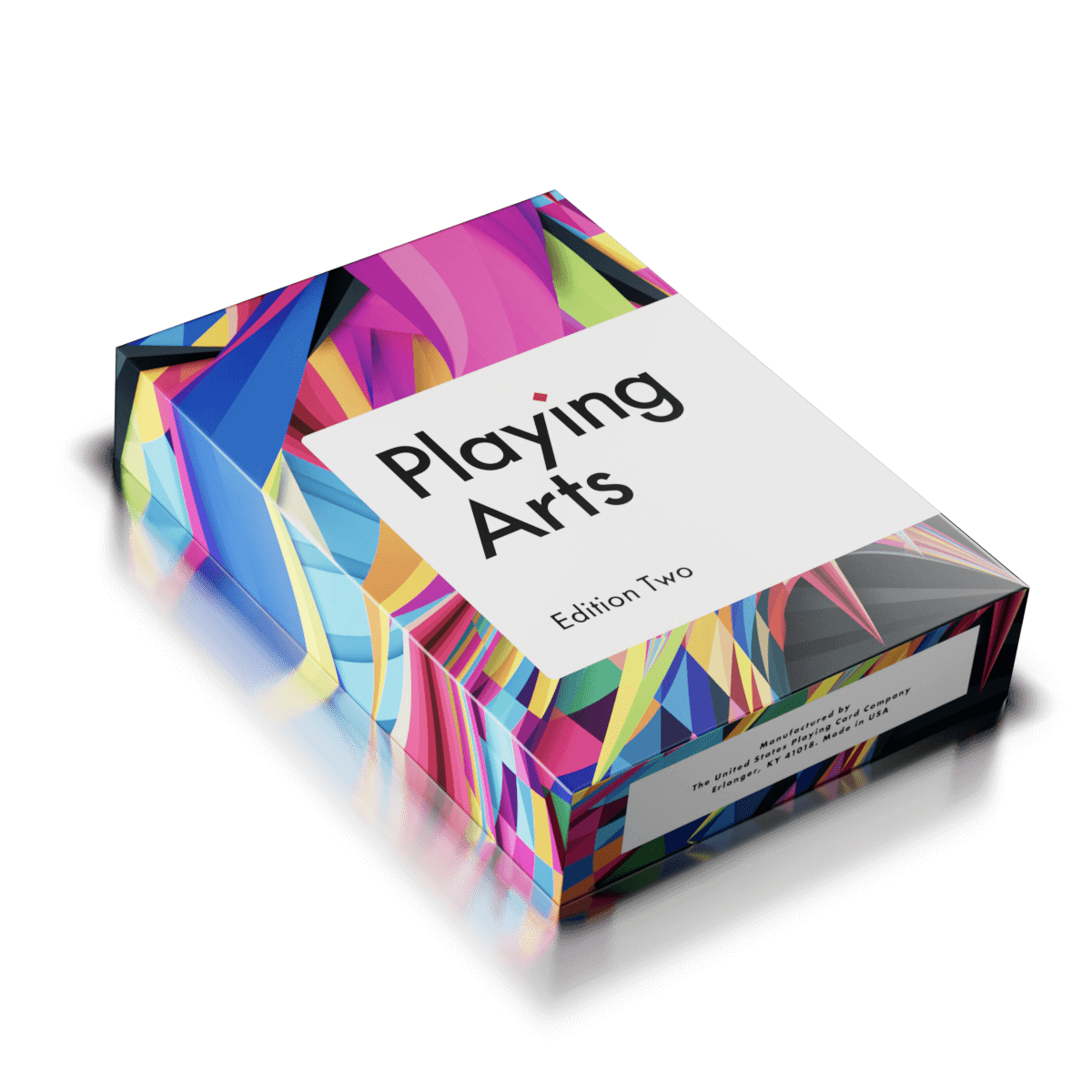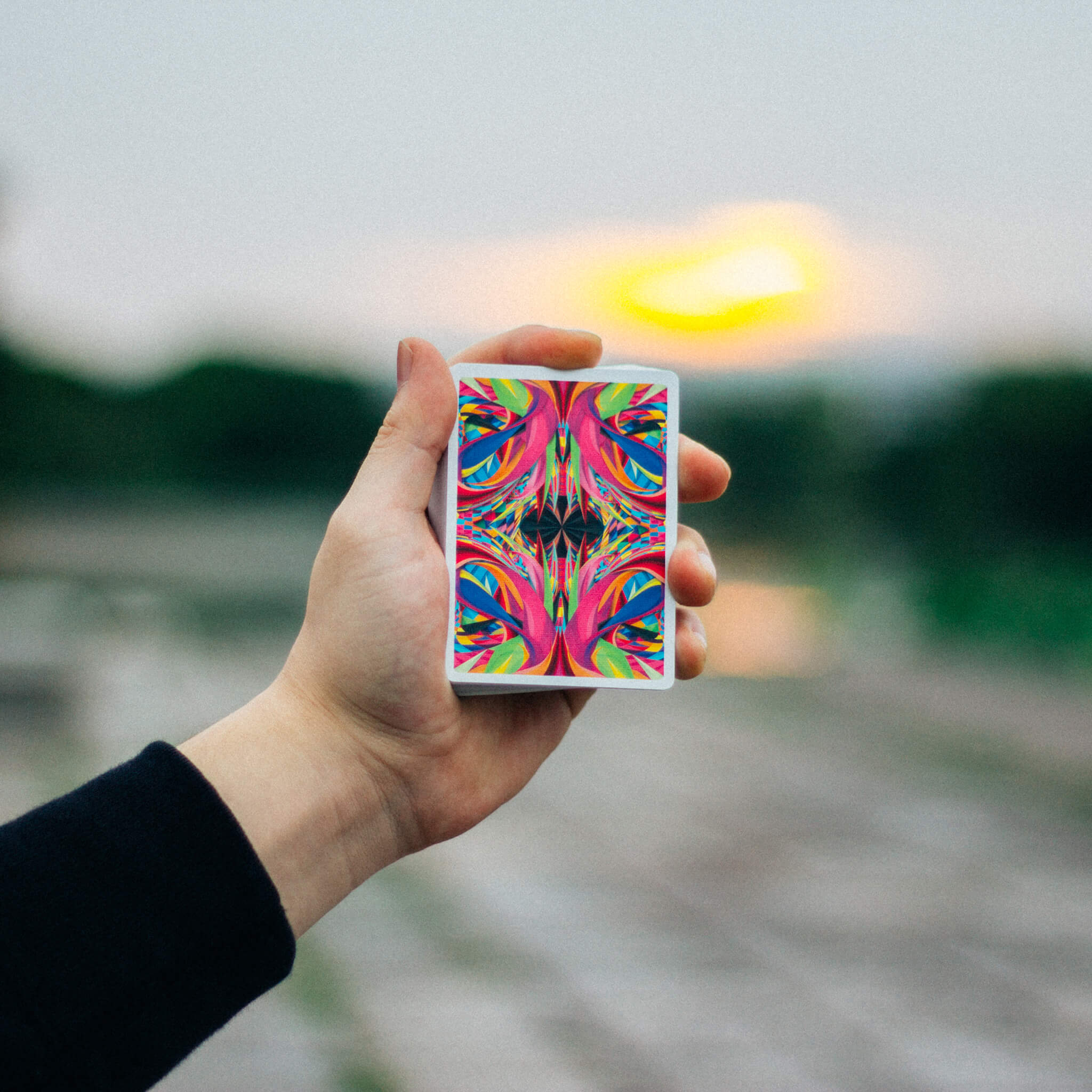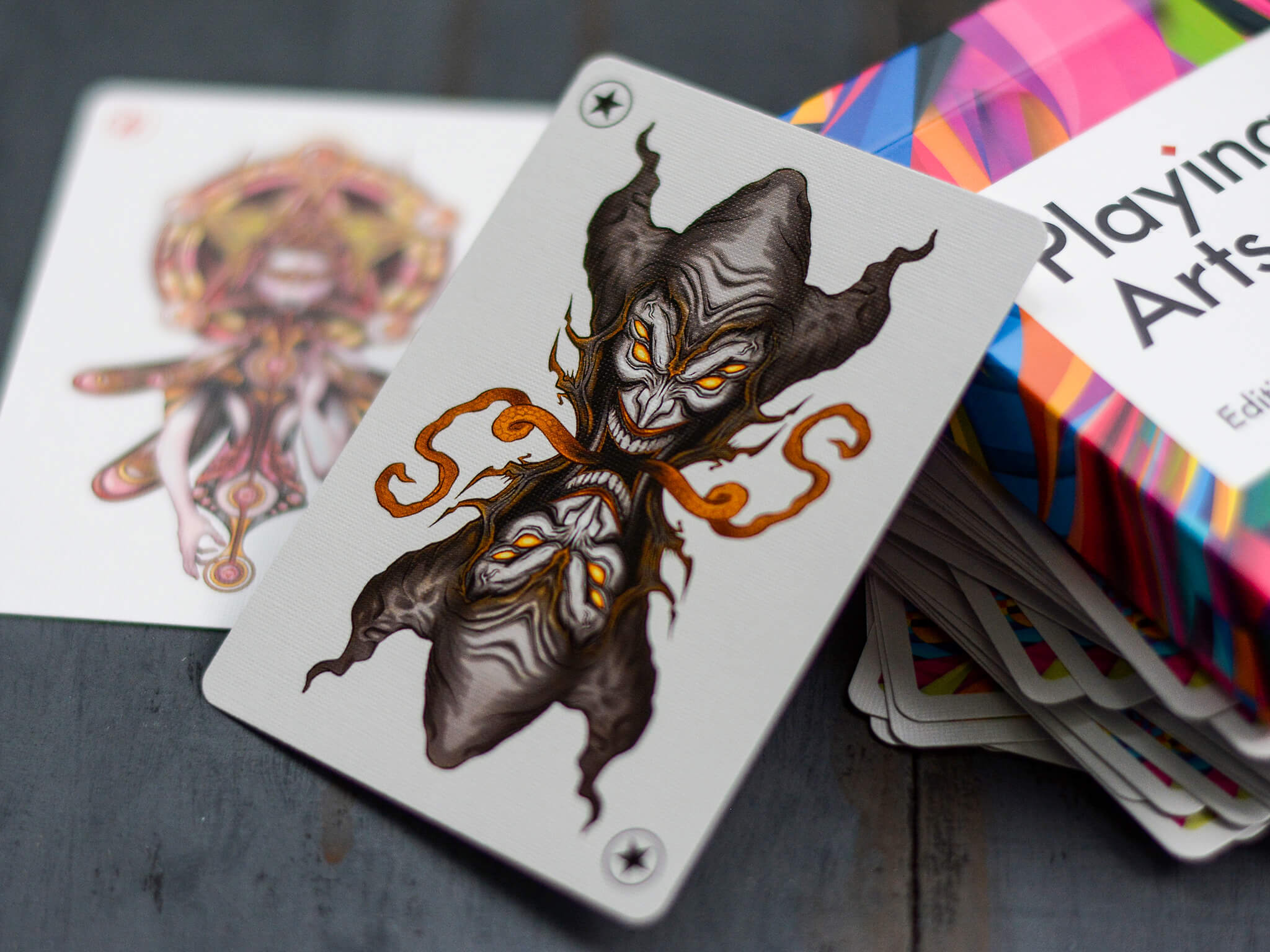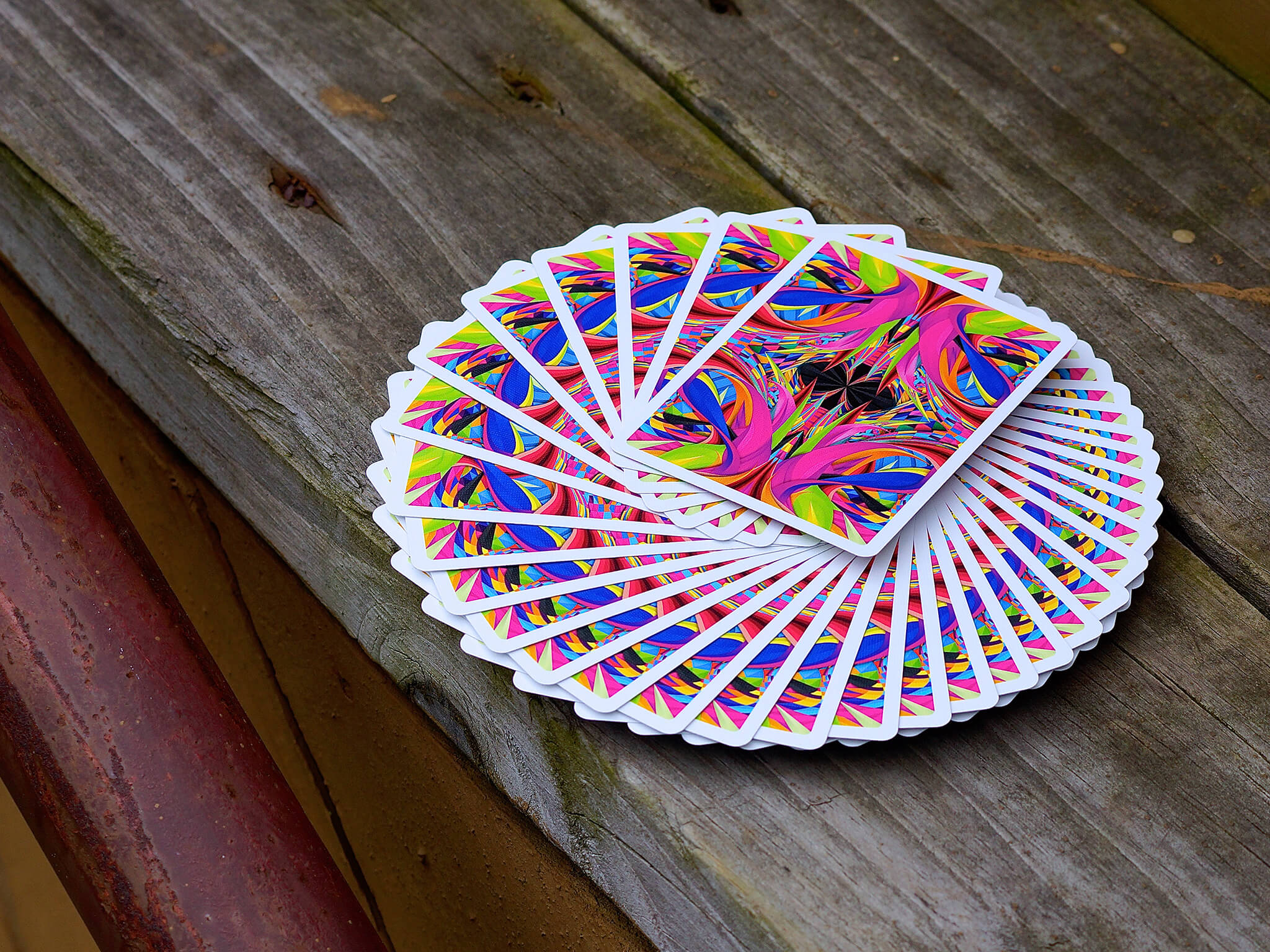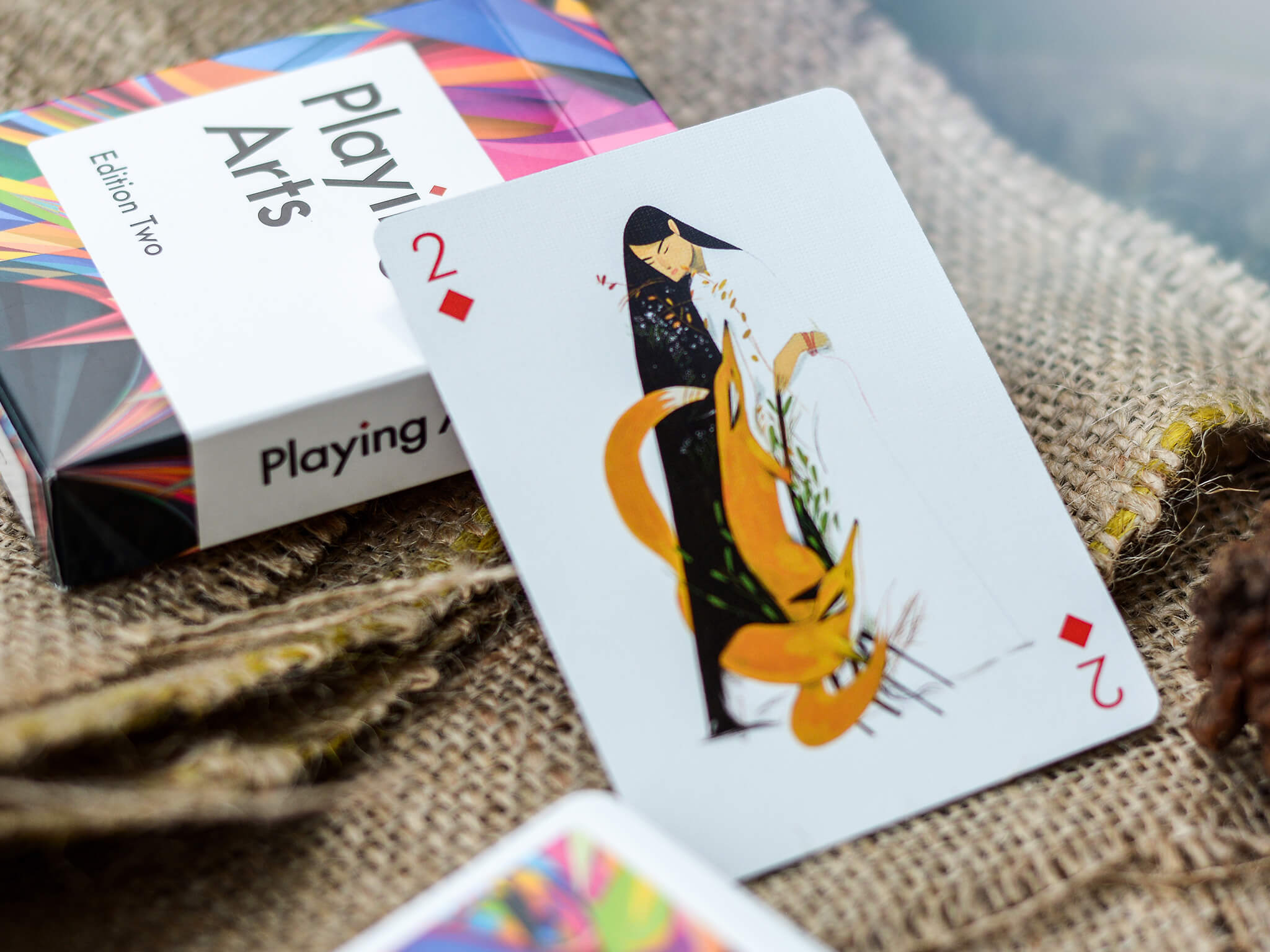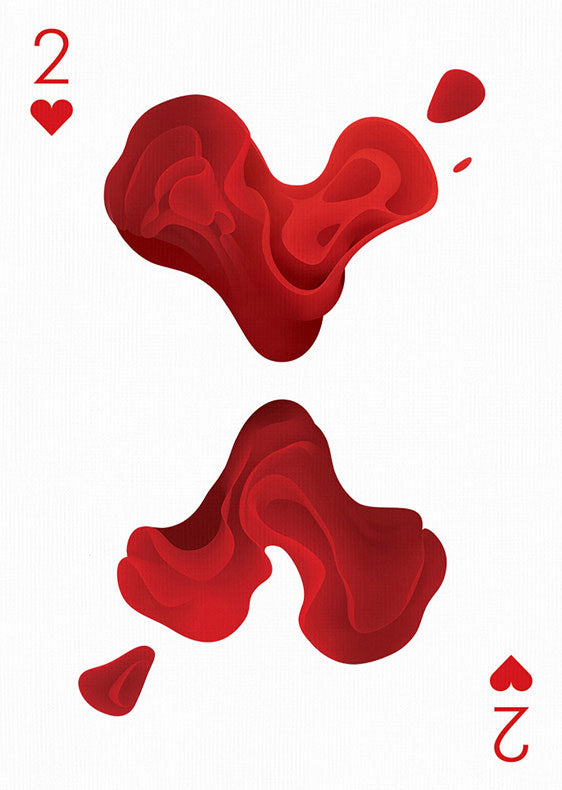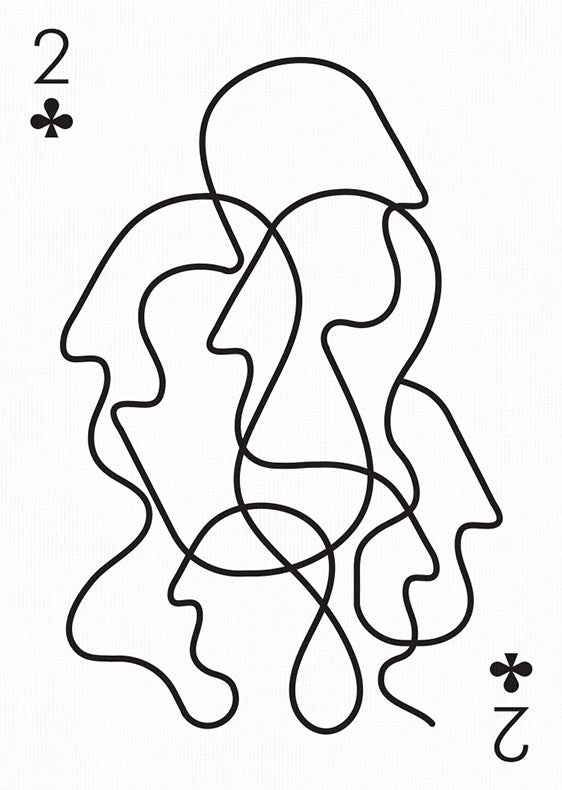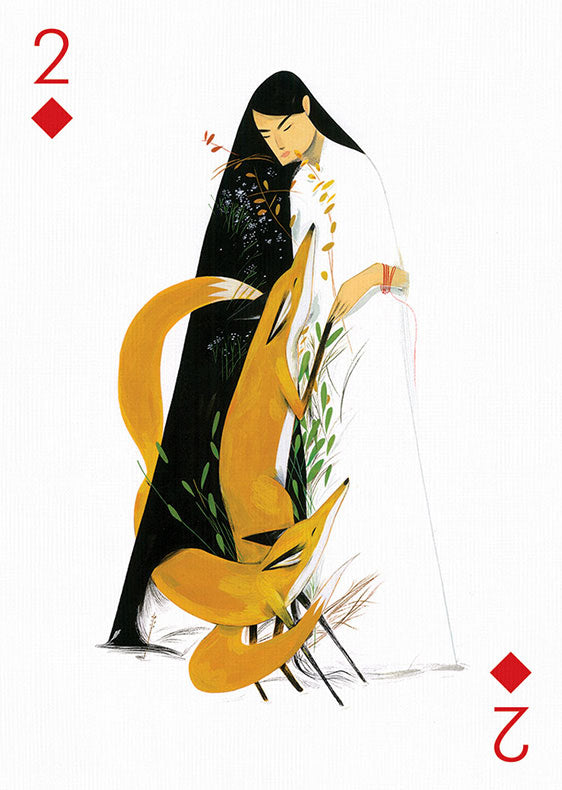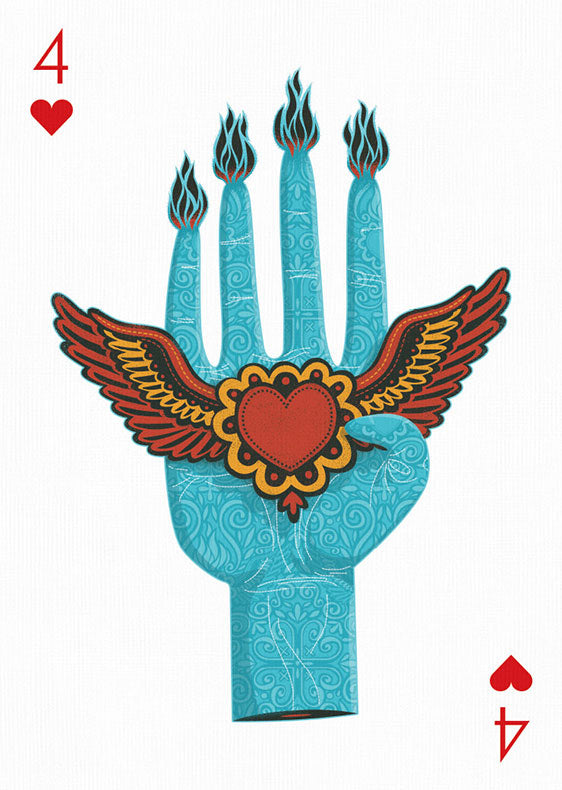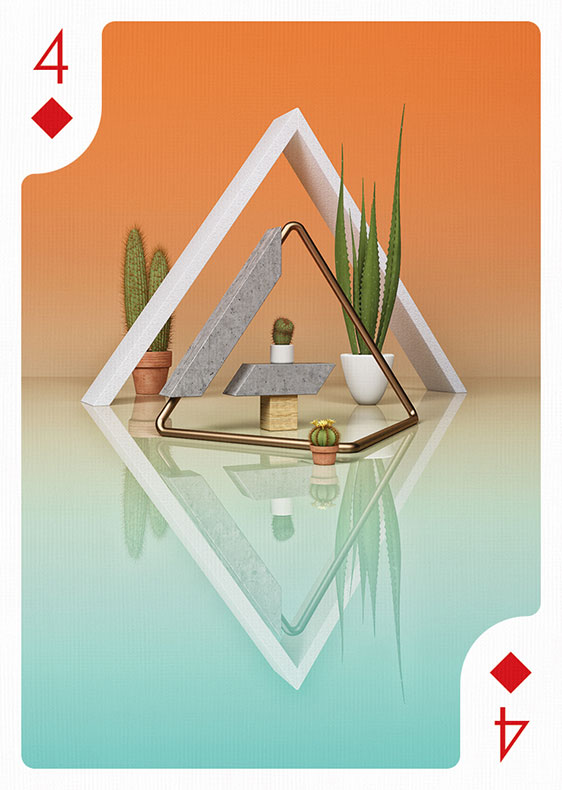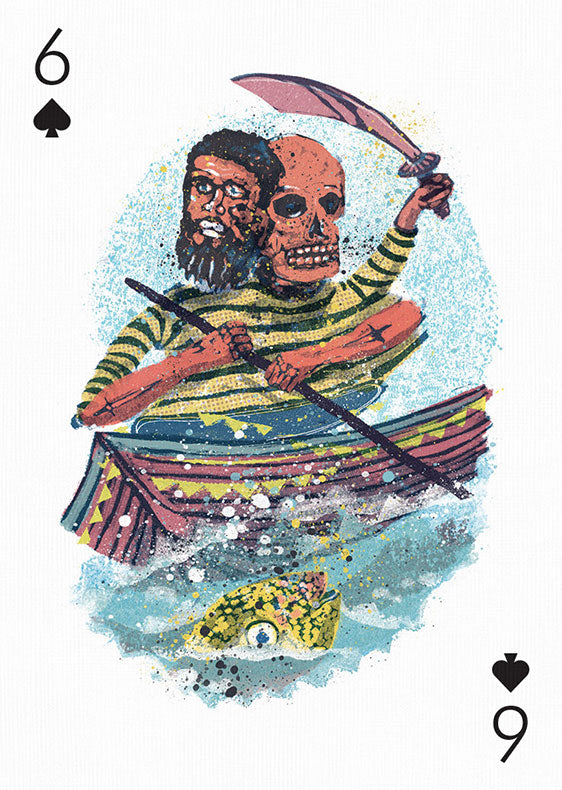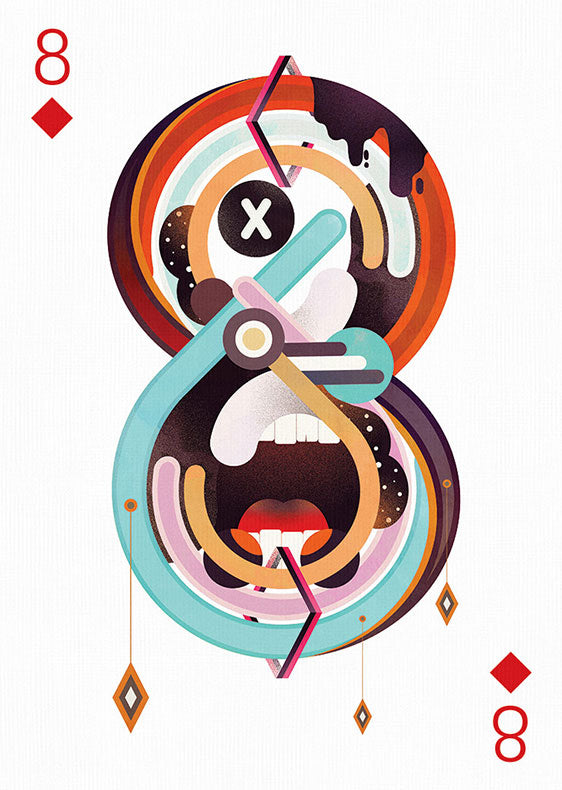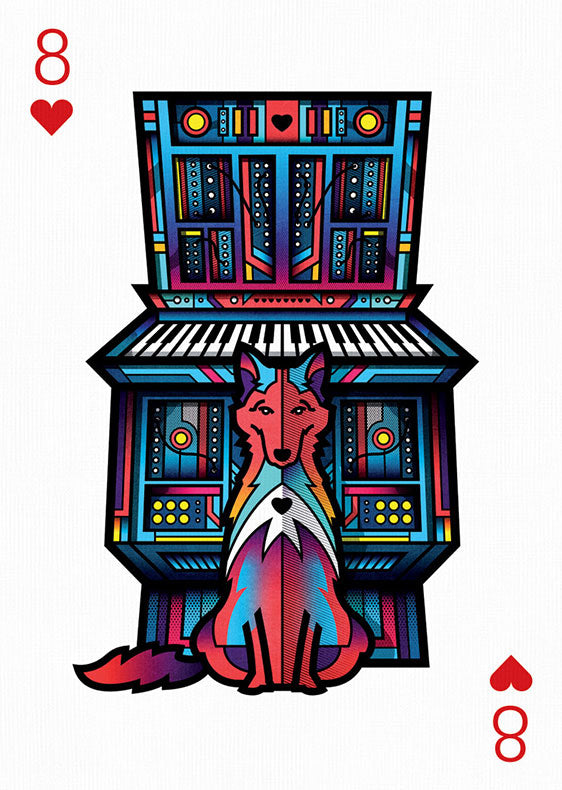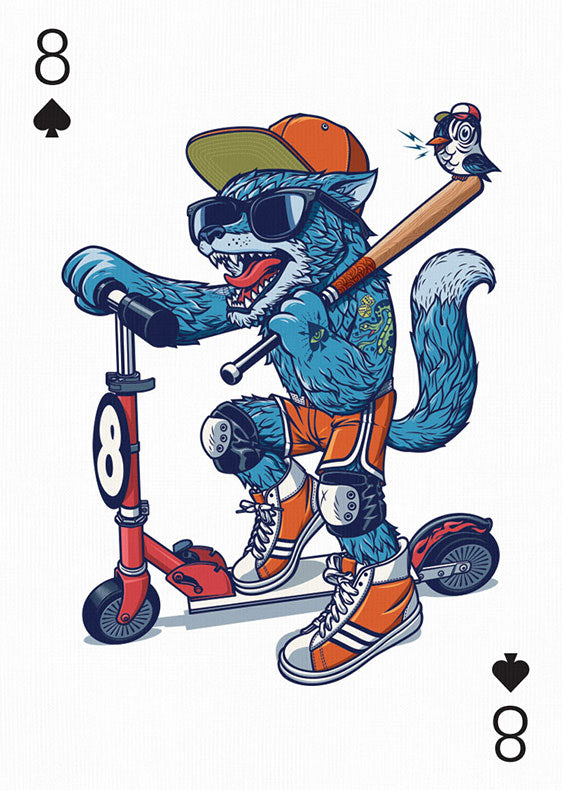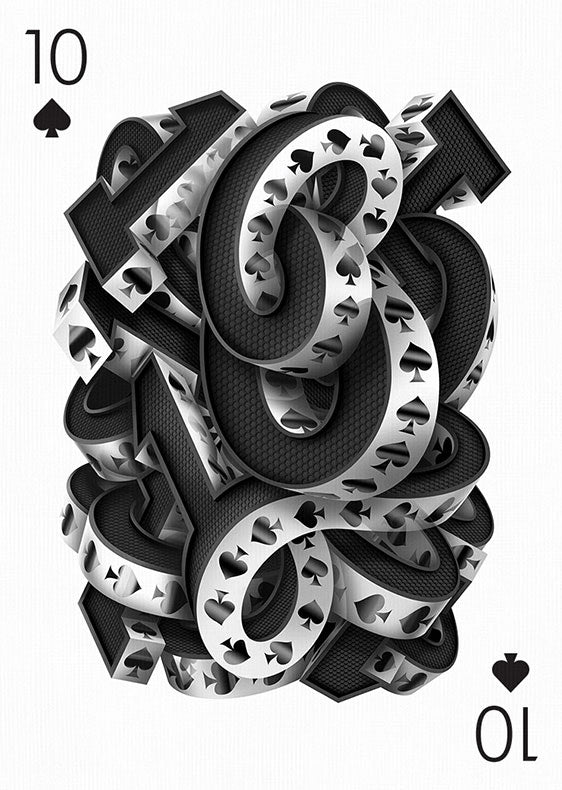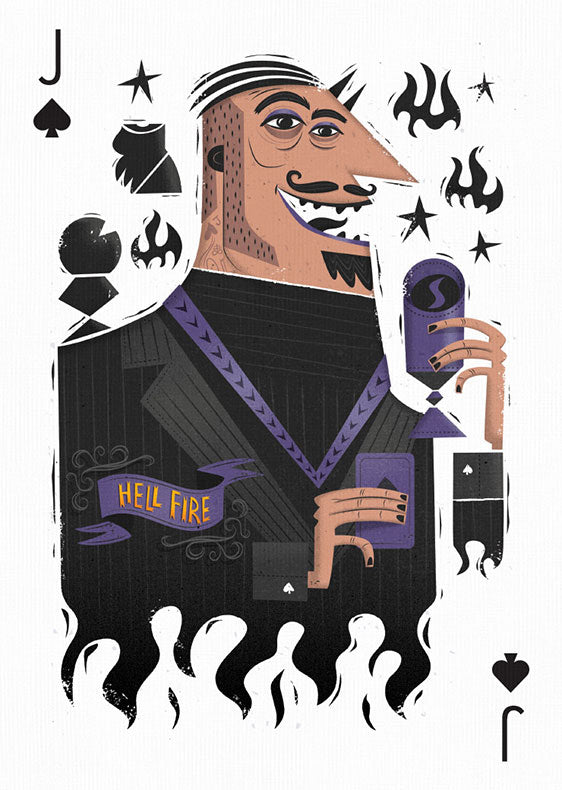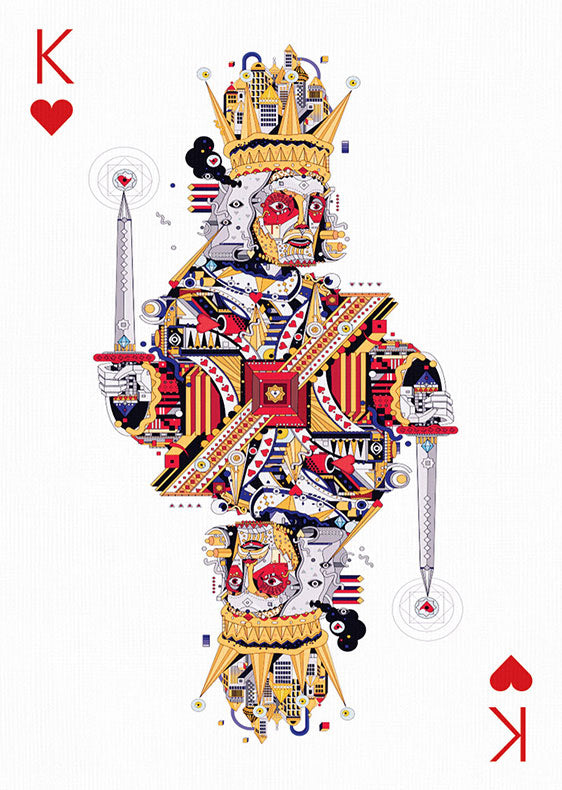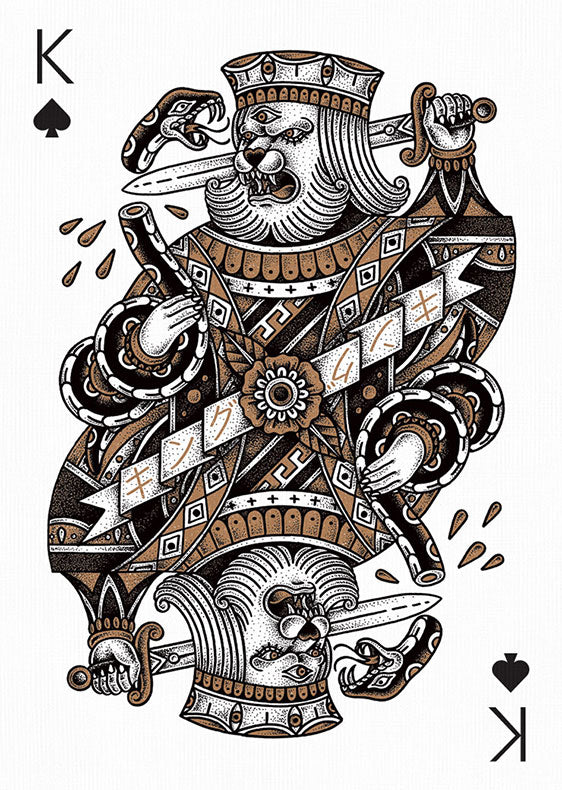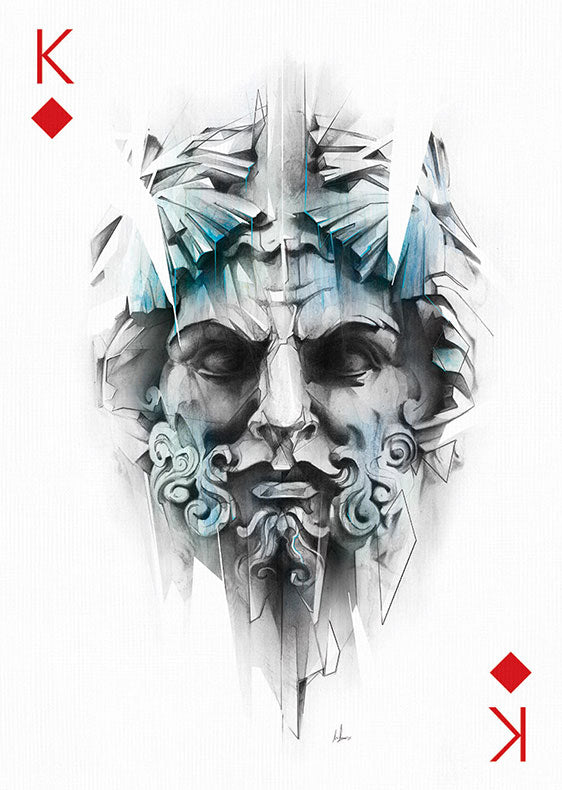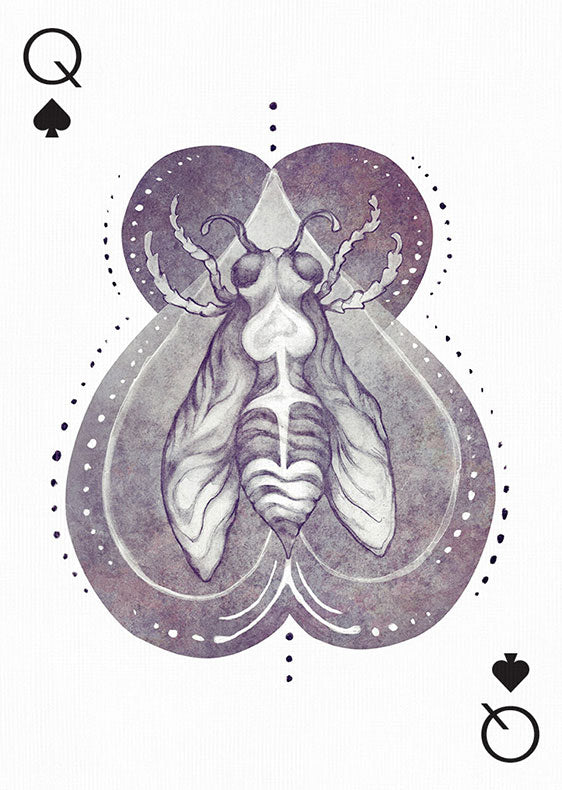 Playing Arts Edition Two Playing Cards
---
---
From the 2 of Clubs to the Ace of Spades, each card in this deck has been individually designed by one of the 55 selected international artists in his distinct style and technique.

"I always see the number 3 as a triangle, and when I received the assignment - the 3 of Hearts - it was pretty obvious to me to make a kind of love triangle, and a love triangle is always a little conflictive and sometimes bizarre."
- Oscar Ramos/3 of Hearts

"Club sandwiches are the fanciest of sandwiches because they not only have frilly toothpicks, but also 3 slices of bread. The 5 of Clubs is an elite inner circle of that Club, and the sandwiches contain even more pomp and circumstance."
- Mikey Burton/5 of Clubs

"On the one hand this is the road among the hills and future-looking landscape, on the other hand this is the infinity sign. So basically, I'd describe it as the metaphor of endless journey."
- Zutto/8 of Clubs

"To be honest, designing a 'high' card is a bit of a challenge to me. I wanted to design a reversible card and the illustration can stand on its own without looking at the given pictograms showing what card it is."
- Kerby Rosanes/10 of Diamonds

"Perched high on the Dublin mountains lies The Hellfire Club, an 18th century hunting lodge with an infamous history of outrageous behavior and depravity. Accounts of the Club's meetings claim that members drank 'scaltheen', a mixture of whiskey and hot butter."
- Peter Donnelly/Jack of Spades

"I knew if I got the Ace - I'd use an 'A' with the knock out of the 'A' having the diamond shape. The 'A' would be subtle... with triangle and Diamonds tearing apart. My style is abstraction... and I'm super happy with the texture and atmosphere my card turned into."
- Joshua Davis/Ace of Diamonds

Enjoy colorful, original artwork from 55 of today's leading international illustrators, all in the palm of your hand!

52 poker size playing cards + 2 Jokers.

Bicycle paper with Air-cushion finish.

"This really is a unique deck. The concept is playful, and elegant at the same time. The colors are vibrant. A wonderful piece of art. It is also a great handling deck of cards."
- Nolan V.

"Bold and striking, understated elegance in a nutshell. Made for a pleasing conversation over cribbage."
- William L.
Playing Arts Edition Two Playing Cards
Our Commitment
Packaged Securely
We pack each order carefully and passionately. Every package comes with maximum protection possible - just like how we like it.
Track Anywhere
We ensure that every package sent is fully trackable anywhere, anytime - leaving you worry free.
RunIt Experience
We strive to bring you the best experience possible. If you're not happy with your service, or something is wrong with your order, just let us know and we'll do our best to make it right. Contact Support
Customer Reviews
Authentic reviews from verified customers after their purchase.