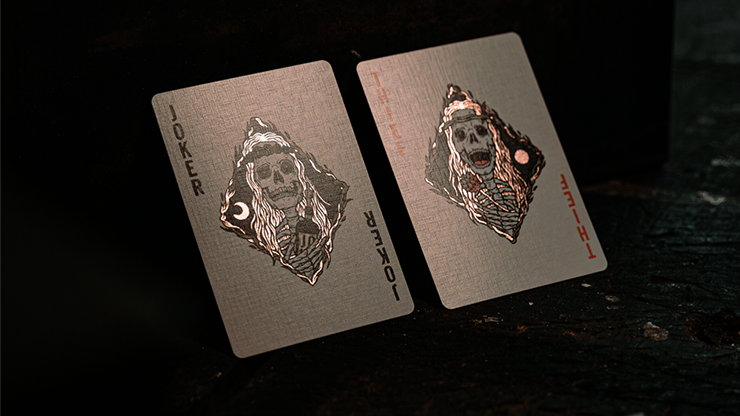 Maidens Foil Playing Cards
---
---
In this new edition of Maidens Playing Cards, tendrils of copper foil are stamped into the back design. This process is called cold foil stamping. Unlike metallic ink, which only shimmers because of metallic particles, cold foil is completely shiny, as if metal has been stamped into the back design.
Artistry & Inspiration: Dive into a captivating design, masterfully illustrated by Sydney's Kentaro Yoshida. Lightly inspired by 'Dia de Los Muertos' or the 'Day of the Dead', Maidens beckon you into a realm where organic feminine energy is in full effect.
Mystical Storytelling: Navigate the spirit plane alongside the Maidens. As carriers of messages from the afterlife, they relay harrowing tales from lost souls, amplifying the deck's aura and mystique.
Exclusive Features:
Shimmering Elegance: Each card is adorned with reflective copper foil, capturing light with every flick and twirl, exuding luxury.
100% Custom Design: A one-of-a-kind deck, promising a memorable game night experience.
Collector's Delight: With its enchanting design and high-quality finish, this deck is not just for play. It's a collector's treasure, a piece of art that stands out in any collection.
Maidens Foil Playing Cards
Our Commitment
Packaged Securely
We pack each order carefully and passionately. Every package comes with maximum protection possible - just like how we like it.
Track Anywhere
We ensure that every package sent is fully trackable anywhere, anytime - leaving you worry free.
RunIt Experience
We strive to bring you the best experience possible. If you're not happy with your service, or something is wrong with your order, just let us know and we'll do our best to make it right. Contact Support
Customer Reviews
Authentic reviews from verified customers after their purchase.