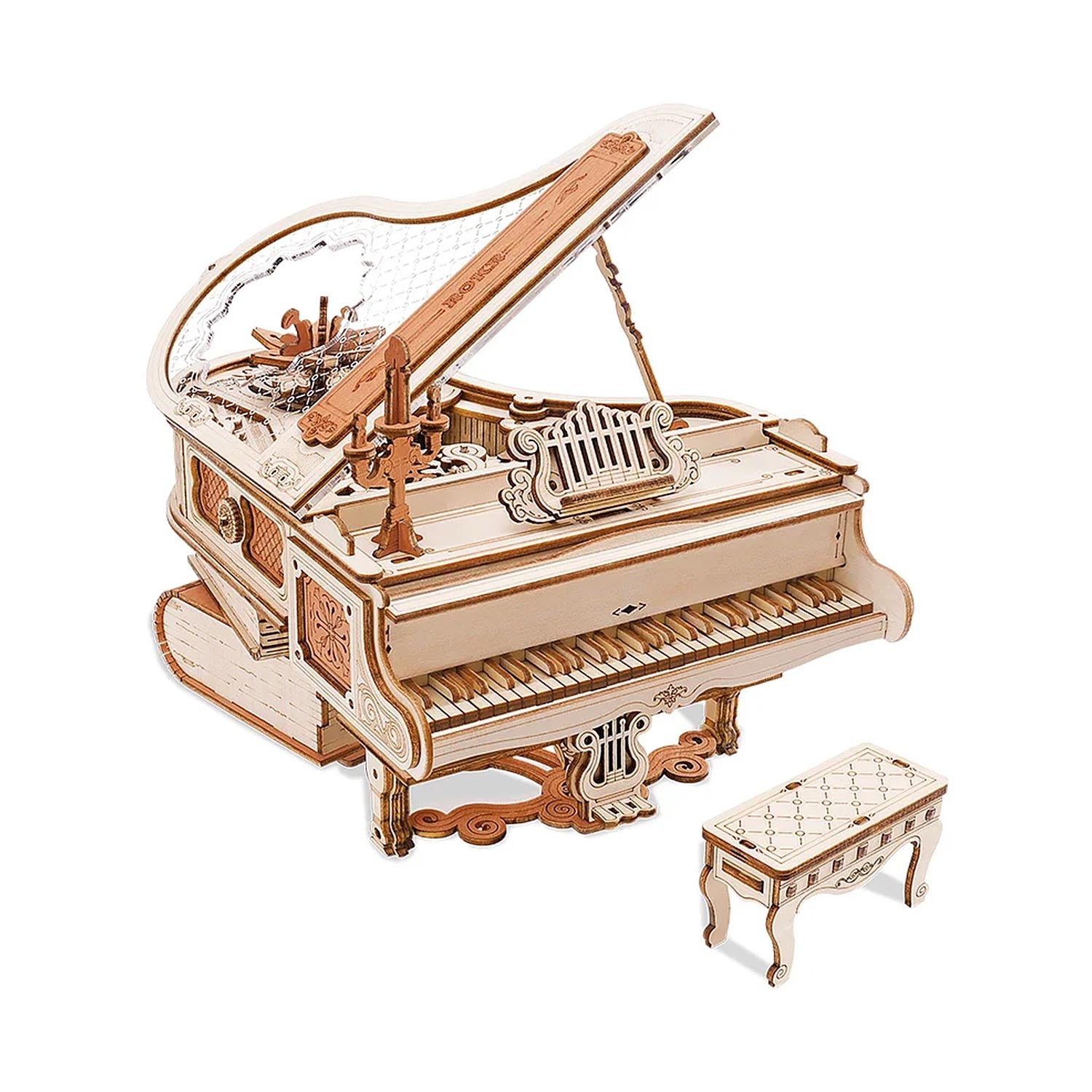 Magic Piano Music Box DIY Mechanical Puzzle
Build Difficulty: Level 4 of 6
---
---
Description

INFORMATION

FAQ
ROKR Magic Piano 3D wooden puzzle AMK81 is the latest product in the Mechanical Music Box series, designed on the basis of a hall-of-fame concert grand piano, with a self-playing interpretation and elegant self-playing keys, adding a touch of mystery to the classical flavor. The product features a vintage look and decoration, with the main body consisting of a classic grand piano and magical antique books. The magic books stacked under the body of the piano replace the original legs of the piano and play the role of support and fixation. The lid is made of transparent acrylic and is embellished with intricate patterns that look like crystal.

The exterior of the piano is covered with a large number of beautiful Victorian ornate and elegant patterns and reliefs. Inside, the body is constructed from a heterochromatic gear set with vintage brown six-petaled flowers - the flowers rotate slowly with the sound of the winding knob, making it a magnificent and elegant instrument. The precision mechanics are cleverly concealed inside the body, driven by a gear set that makes some of the keys rise and fall on their own, adding a touch of elegance to the entire music box.

Wax may not be included in the package. You could use ordinary candles, crayons, beeswax, etc.

Self-playing piano with gear drive model

The precision mechanics are hidden inside the body of the piano. The winding movement is twisted and the gear model drives the keys to play on their own, simulating the way a piano plays.

Crystal pattern lid

The half-open lid is made of transparent acrylic and embellished with intricate patterns on the surface, just like crystal, gorgeous and exquisite.

Heart of this puzzle lies in its magical movement

Once the music box is fully assembled, a simple winding of the key sets the gears in motion. As the music begins to play, the meticulously aligned gears start rotating, creating a mesmerizing dance of interlocking mechanisms.

Exquisite retro appearance & decoration

The exterior of the piano is designed with a large number of beautiful and retro patterns, reliefs, and small decorations, such as cute little cats and dark brown vintage candle holders, full of details.

Material: Wood
Dimensions (Assembled): 17 x 14 x 12.5cm
What is this kind of puzzle?

It is a fun-to-build 3D wooden puzzle with a mechanical sense and industrial style. It expresses creative ideas with precise structure and interprets geek spirit with hardcore modeling. The puzzles come in various kinds, ranging from easy to difficult, and are suitable for all ages.

This do-it-yourself kit that require assembly and serve as great projects to develop your hands-on ability. By engaging in the assembly process, you can enhance your problem-solving skills and foster a sense of accomplishment. These puzzles offer an enjoyable challenge that combines creativity with hands-on learning, making them a perfect choice for anyone looking to explore their mechanical and modeling interests.
Magic Piano Music Box DIY Mechanical Puzzle
Our Commitment
Packaged Securely
We pack each order carefully and passionately. Every package comes with maximum protection possible - just like how we like it.
Track Anywhere
We ensure that every package sent is fully trackable anywhere, anytime - leaving you worry free.
RunIt Experience
We strive to bring you the best experience possible. If you're not happy with your service, or something is wrong with your order, just let us know and we'll do our best to make it right. Contact Us
Customer Reviews
Authentic reviews from verified customers after their purchase.