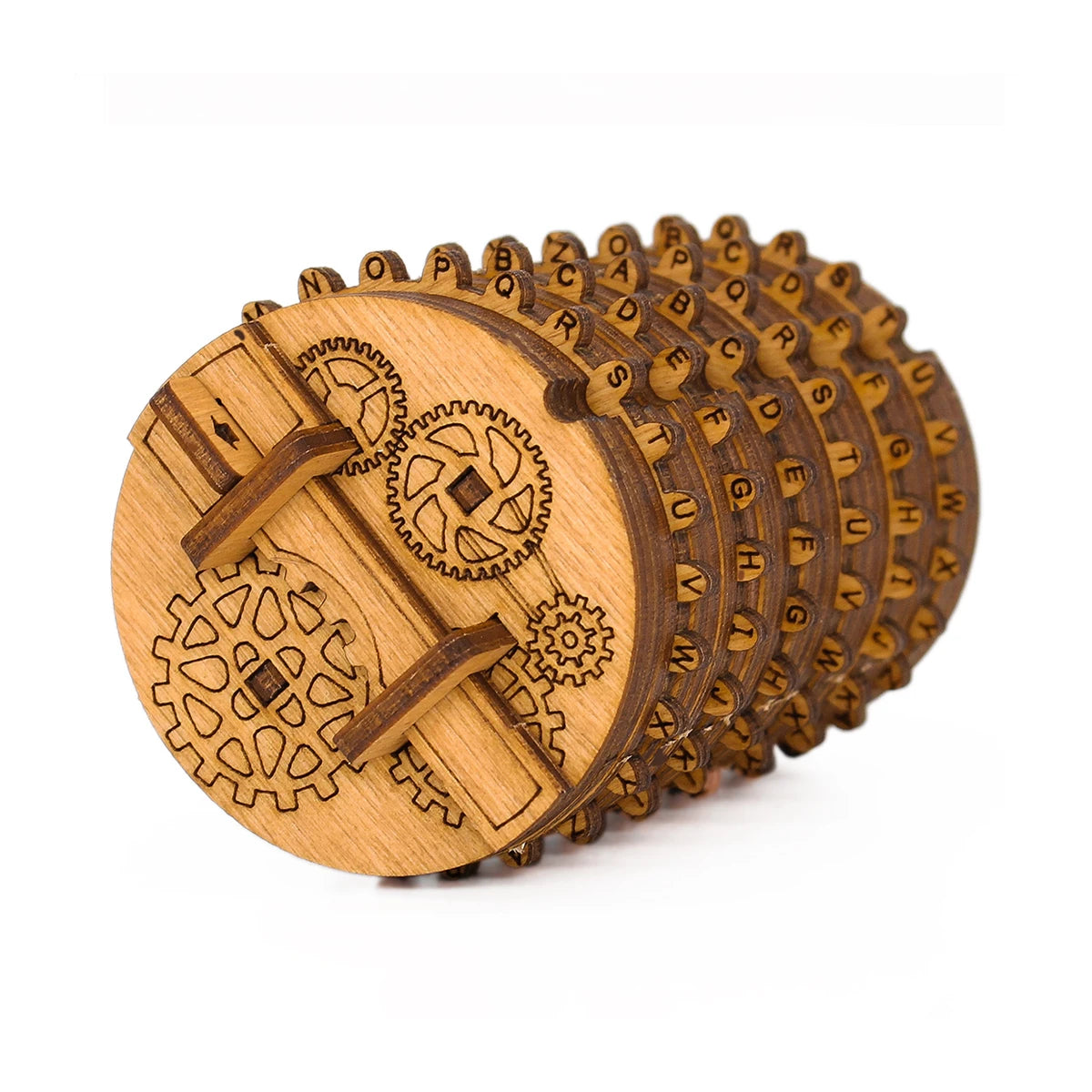 Kryptos Construction Kit Secret Box
---
---
Description

INFORMATION

FAQ
Kryptos is a portable vault used to hide secret messages. We have produced it as wooden kit, giving you  opportunity to build it on your own, get insights on it's mechanics and of course hide secret message as a present or as part of a game.
The facts about the game
Kryptos wooden kit.
Size: 10,5*6 cm
Can also be used as a sophisticated gift wrap
Our Kryptos can be easily reset and the secret word can be set to any word up to 6 letters.
Secret space size: 2*2*8 cm
Age: 14+


What is it made of?
It is made with love of birch wood and wood oil.
It consists of 45 individual parts which are crafted with care by hand.
Materials: Birch Wood and Wood Oil
Dimensions: 10.5 x 6cm
What is a secret box?

A secret box is a type of box that is designed to be opened only by solving a specific sequence of movements or manipulations. These boxes are often made of wood and have a hidden compartment or mechanism that can only be accessed by correctly opening the box.

What is the difference between a secret box and puzzle box?

Unlike puzzle boxes, which are typically solved through a logical sequence of steps, a secret box may or may not have a logical solution to open it. Additionally, while puzzle boxes often require a series of intricate and time-consuming steps to solve, a secret box can sometimes be opened with just one or a few simple movements.

One of the most defining features of secret boxes is their hidden seams or mechanisms that allow the box to be opened. These mechanisms can be quite intricate, making the opening of the box an interesting and rewarding experience. Secret boxes come in a wide variety of designs, ranging from simple boxes with a hidden compartment to elaborate creations with intricate internal mechanisms.
Kryptos Construction Kit Secret Box
Our Commitment
Packaged Securely
We pack each order carefully and passionately. Every package comes with maximum protection possible - just like how we like it.
Track Anywhere
We ensure that every package sent is fully trackable anywhere, anytime - leaving you worry free.
RunIt Experience
We strive to bring you the best experience possible. If you're not happy with your service, or something is wrong with your order, just let us know and we'll do our best to make it right. Contact Us
Customer Reviews
Authentic reviews from verified customers after their purchase.