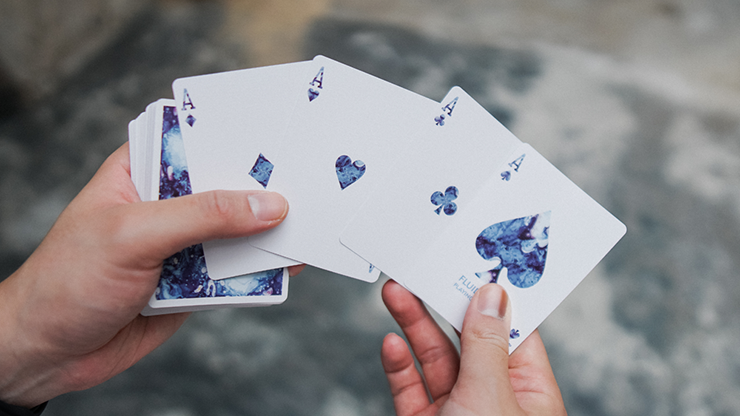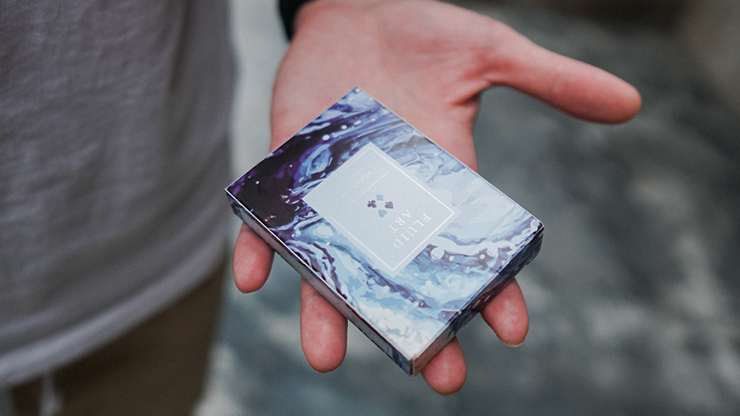 Fluid Art Blue Standard Edition Playing Cards
---
---
This project is specially dedicated to all cardists, flourishers, and collectors.

There are two meanings behind the 'Fluid Art'. In English, the name embodies the flow and design which draws inspiration from fluid paintings. In Chinese means glittering and brilliant colors of light. We believe that this would cause your eyes to sparkle, not just figuratively, but also in reality.

In addition, we are also adhering to our pursuit of superb feel and handling. Using a brand-new process, that no matter the type of flourish and cardistry moves, the tactile feel and slickness of the cards all blend smoothly into one fluid motion.

The Standard edition and Cardistry edition share the same vibe and color scheme,however, that is where the similarities end. The tuck cases, back design, and card faces are different.

This sincerity of design has developed into two different unique aesthetics. One way to distinguish between them is by the patterns on the front of the tuck box. The front of the Standard edition depicts the four playing card pips, and the Cardistry edition depicts four squares.

Standard EditionThe Standard edition adopts the standard card faces, retaining the standard Ace through King face design.

The eye-catching and visually striking combo of orange and blue complementary colors permeates every facet of the playing cards. With crisp narrow white borders and simple fresh design, the Fluid Art Playing Cards Standard Edition can be defined as: Art.

Standard Edition:

52 playing cards + 2 Joker
Ultra-thin Fluid Stock
Printed by Taiwan Playing Card Company
Standard Poker size
Gilded tuck box
High-quality paper
Fluid Art Blue Standard Edition Playing Cards
Our Commitment
Packaged Securely
We pack each order carefully and passionately. Every package comes with maximum protection possible - just like how we like it.
Track Anywhere
We ensure that every package sent is fully trackable anywhere, anytime - leaving you worry free.
RunIt Experience
We strive to bring you the best experience possible. If you're not happy with your service, or something is wrong with your order, just let us know and we'll do our best to make it right. Contact Support
Customer Reviews
Authentic reviews from verified customers after their purchase.