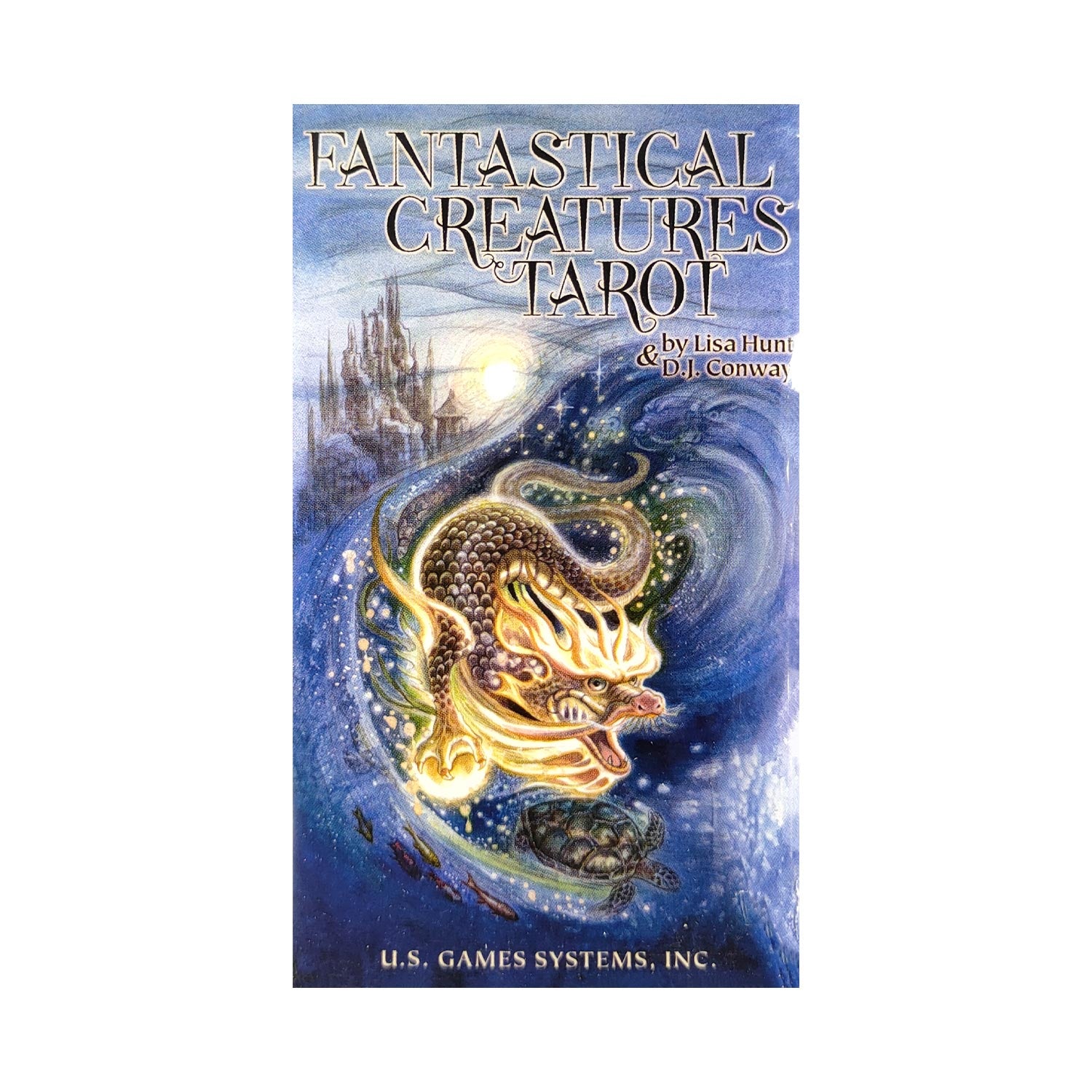 Fantastical Creatures Tarot Cards
---
---
Description

INFORMATION

FAQ
NOTE: Item has box imperfection. Please see image.

From the worlds of mythology, folklore and legend, Fantastical Creatures Tarot brings to life a colorful menagerie of mystical beings. Lisa Hunt's luminous artwork shows us glimpses of the mystical beings that inhabit our imagination, and reveals the lessons they can teach us.

    "Most ancient cultures believed that it was possible to make contact with these mystical creatures. The priests, magicians, and shamans understood that contact would not be on the Earth plane, but on the astral level. They followed certain traditions that allowed them to tap into this source of power, using it in their spiritual and magickal rituals.

    Today, most people have lost touch with these ancient sources and most no longer believe in them. It is possible, however, to relearn the ancient art of communication with fantastic creatures. When approached in the proper ways, these powers can help us. By tapping into these astral sources, we can use the ancient images in divination to gain a clearer picture of what is causing life-problems and what we can do about it."

—From Fantastical Creatures Tarot Introduction        

Includes 72-page booklet and Quick Reference Guide to the Cards for both the Major and Minor Arcana.

Author: D. J. Conway
Artist: Lisa Hunt
ISBN: 9781572816374
Dimensions: Cards measure 2.75" x 4.75"
What is the difference between Tarot, Oracle, and Lenormand?

Tarot decks are the oldest and most well-known type of divination decks. They consist of 78 cards, divided into the Major Arcana (22 cards) and the Minor Arcana (56 cards), and are used to provide insight into the past, present, and future. Each card has a unique image and symbolism, and readers use their intuition, knowledge of the cards, and other divination techniques to interpret the meaning of the cards.
Oracle decks, on the other hand, are a more modern type of divination deck that does not follow a specific structure or format. They can vary widely in terms of the number of cards and the images and symbols used. Oracle decks can be designed around specific themes, such as angels, animals, or chakras, and are often used to provide inspiration and guidance for personal growth and spiritual development.
Lenormand decks are a specific type of divination deck that originated in Germany in the 19th century. They consist of 36 cards, each with a simple image and meaning. Lenormand decks are used to provide practical guidance for everyday situations, such as work, love, and health, and are often used in combination with other divination techniques, such as tarot or astrology.
Fantastical Creatures Tarot Cards
Our Commitment
Packaged Securely
We pack each order carefully and passionately. Every package comes with maximum protection possible - just like how we like it.
Track Anywhere
We ensure that every package sent is fully trackable anywhere, anytime - leaving you worry free.
RunIt Experience
We strive to bring you the best experience possible. If you're not happy with your service, or something is wrong with your order, just let us know and we'll do our best to make it right. Contact Support
Customer Reviews
Authentic reviews from verified customers after their purchase.