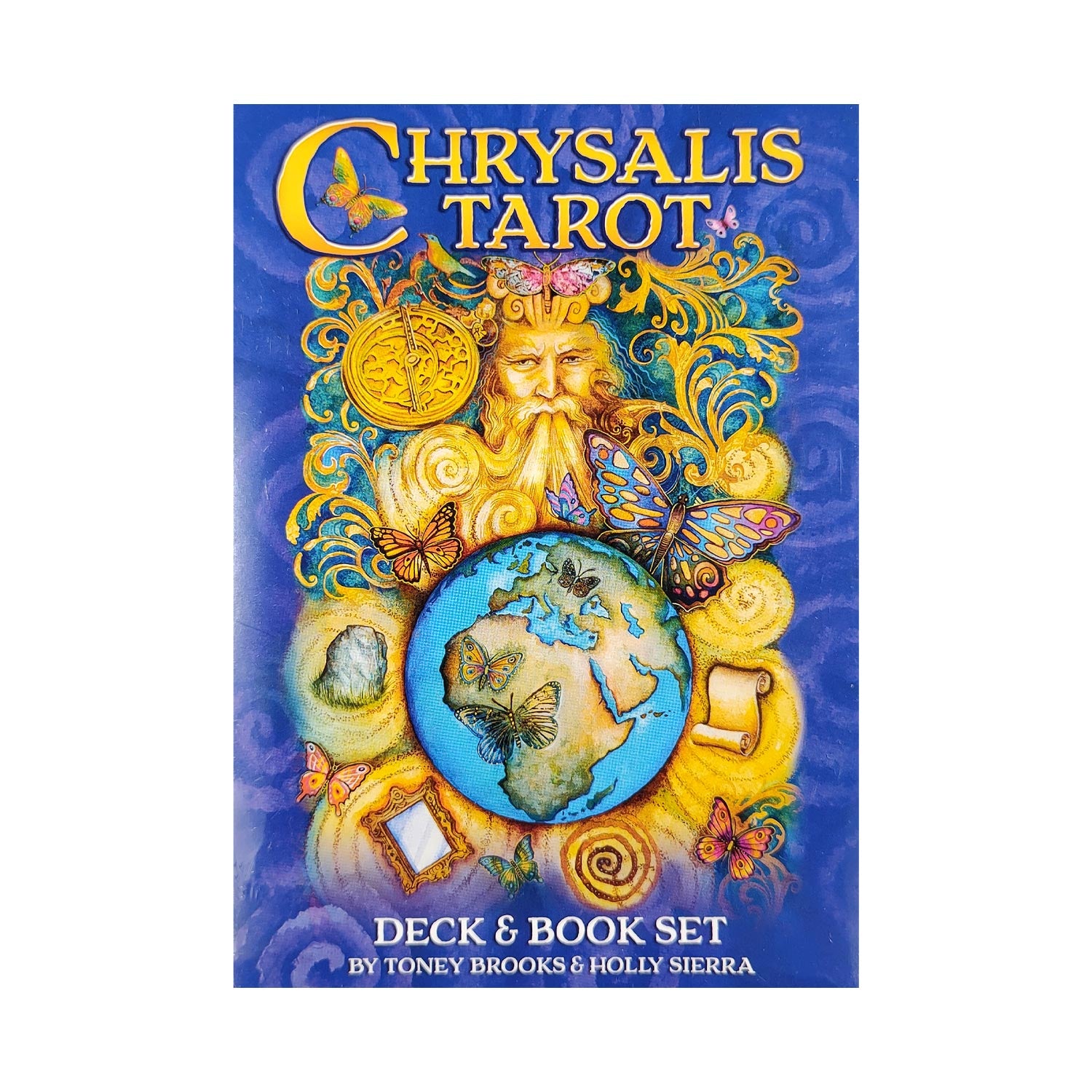 Chrysalis Tarot Cards and Book Set
---
---
Description

INFORMATION

FAQ
NOTE: Item has box imperfection. Please see image.

The future is waiting to be written by the strong, beautiful children of today. In a world in which things often feel out of control, isn't it nice for children to learn they have choices and can connect with their inner guidance? Tarot is a fantastic tool for teaching kids verbal and decision-making skills, how to set goals and move toward the outcome they want, and how to trust their instincts. With Tarot for Kids, children (ages 8 and up) are invited to narrate their own stories and find their power. As author Theresa Reed, aka The Tarot Lady, reminds us: "The cards tell a story, but you write the ending."

A few cards have been modified for this age group―for example, the "death" card is "change," and the "lovers" card is "friends." The guidebook has everything kids need to begin, including a brief history of tarot, the meanings of the cards, and how to perform readings. It also includes resources to help kids set goals, build friendships, adjust an attitude, and listen to their own inner wisdom.

Includes 78 cards and 96-page guidebook.

Author: Toney Brooks with foreword by Tali Goodwin
Artist: Holly Sierra
ISBN: 9781572818439
Dimensions: Box 5" x 7"; 78 cards 2.75" x 4.75"; Book 5" x7", 216 pages, illustrated;
What is the difference between Tarot, Oracle, and Lenormand?

Tarot decks are the oldest and most well-known type of divination decks. They consist of 78 cards, divided into the Major Arcana (22 cards) and the Minor Arcana (56 cards), and are used to provide insight into the past, present, and future. Each card has a unique image and symbolism, and readers use their intuition, knowledge of the cards, and other divination techniques to interpret the meaning of the cards.
Oracle decks, on the other hand, are a more modern type of divination deck that does not follow a specific structure or format. They can vary widely in terms of the number of cards and the images and symbols used. Oracle decks can be designed around specific themes, such as angels, animals, or chakras, and are often used to provide inspiration and guidance for personal growth and spiritual development.
Lenormand decks are a specific type of divination deck that originated in Germany in the 19th century. They consist of 36 cards, each with a simple image and meaning. Lenormand decks are used to provide practical guidance for everyday situations, such as work, love, and health, and are often used in combination with other divination techniques, such as tarot or astrology.
Chrysalis Tarot Cards and Book Set
Our Commitment
Packaged Securely
We pack each order carefully and passionately. Every package comes with maximum protection possible - just like how we like it.
Track Anywhere
We ensure that every package sent is fully trackable anywhere, anytime - leaving you worry free.
RunIt Experience
We strive to bring you the best experience possible. If you're not happy with your service, or something is wrong with your order, just let us know and we'll do our best to make it right. Contact Support
Customer Reviews
Authentic reviews from verified customers after their purchase.