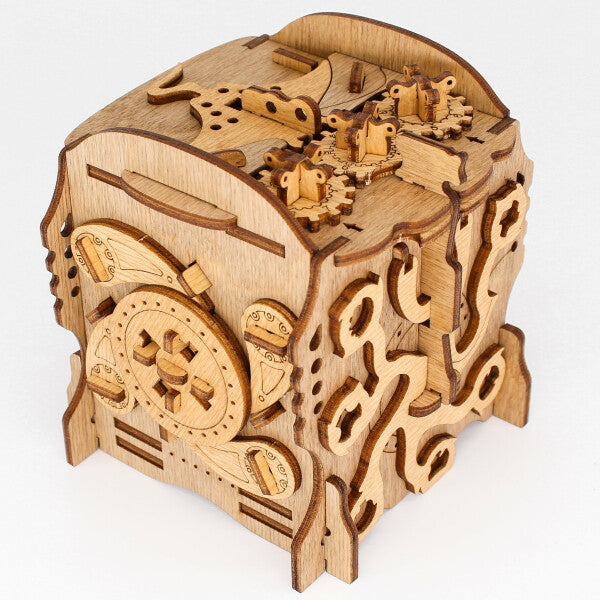 Captain Nemo's Nautilus Escape Room Cluebox
---
---
Description

INFORMATION

FAQ
The Cluebox is an interactive puzzle box with various puzzles and tasks that must be solved one after another to open the box.
In other words, it is an escape room in a handy format! In our tricky escape game nothing is based on randomness, but only on logical decisions.

The Cluebox is a brain game that not only provides a lot of puzzle fun, but can also be used as a unique gift box.

Developed by escape games fans for escape games fans!

Are you experienced in playing brain teaser games, solving mystery boxes or riddles? The Cluebox will not disappoint you!
New to the world of escape room games and quest puzzles? Time to jump in and reveal the secret of Captain Nemo's Nautilus!

CLUEBOX ist NOT a usual "box of tricks" which can be solved in 10 minutes. Here are the advantages of your CLUEBOX at a glance:

60 - 90 minutes' adventure
and a unique experience that you will remember a long time afterwards.

116 individual parts
precisely cut from high quality birch wood using the finest laser technology.

100% puzzle fun
and your own little Escape Room that you can take to any event.

creative gift wrap
for a small gift like money or jewelry.

Facts about the game:

Type: an interactive box with various puzzles
Duration: 60-90 minutes
Players: 1-2
Age: 14+
Secret space: 2 x 2 x 4 cm
Replayability: can be solved again by other players.

STORY

1870, Paris. After the first publication about Captain Nemo and his submarine "Nautilus", which attracted a lot of public attention, Jules Verne publishes the end of the story about the mysterious captain. Shortly before his death, Nemo says that he will put all of his scientific discoveries and his autobiography in a small unsinkable container: "The last one to leave the "Nautilus" submarine will throw the container into the sea and it will drift wherever the waves take it". Right afterwards, the Nautilus is destroyed. Of course, one might think that the whole story was just a fantasy of Jules Verne. But in private conversations, he asserted that all characters were real people. And now we can prove that! We recently found the "unsinkable container" and now you are holding it in your hands.
It's time to unravel Captain Nemo's secret and find the lost traces of his scientific findings!

Material: Birch Wood
Secret Space: 2 x 2 x 4 cm
What are mechanical puzzles?

Mechanical puzzles are physical puzzles that involve manipulating objects or mechanisms to solve a problem or reach a goal. They come in different forms, such as disentanglement, assembly, and sequential movement puzzles.

What's the objective of this puzzle?

This puzzle requires you to figure out how to separate the pieces and put them back together, using your problem-solving skills to find the right sequence of movements.
Captain Nemo's Nautilus Escape Room Cluebox
Our Commitment
Packaged Securely
We pack each order carefully and passionately. Every package comes with maximum protection possible - just like how we like it.
Track Anywhere
We ensure that every package sent is fully trackable anywhere, anytime - leaving you worry free.
RunIt Experience
We strive to bring you the best experience possible. If you're not happy with your service, or something is wrong with your order, just let us know and we'll do our best to make it right. Contact Us
Customer Reviews
Authentic reviews from verified customers after their purchase.