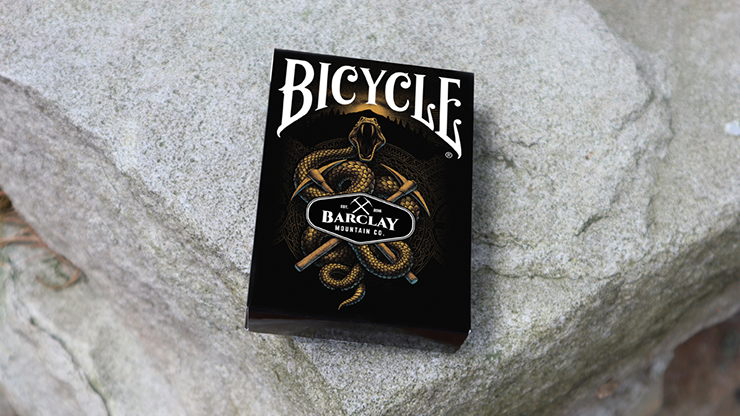 Bicycle Barclay Mountain Playing Cards
---
---
The Court Cards
The court cards feature what life would've looked like on Barclay Mountain before it became a ghost town. Coal miners, lumberjacks, a leatherworker, a businessman, a railroad worker and teachers are hand illustrated on each court card. Much of the artwork was created using real photos for the inspiration.
The Tuck Case
The tuck case features a snake coiled around two pickaxes. The inspiration for this design came from the Gadsden Flag (also known as the Don't Tread on Me flag). We have a stretch goal where we will produce a unbranded version (without the Bicycle logo).
The Back Design
The back design features two snakes forming the infinity symbol. It's designed to remind people that time is never ending, and history can repeat itself. The back also ties in the theme of coal mining and lumbering with the use of pickaxes, axes and a railroad locomotive. The locomotive is modeled after one of the trains that once carried coal from the mountain to the nearby town of Towanda, Pa.
The Overall Design
The playing cards were designed in collaboration with R.J. Tomlinson, Anna Dorjieva and Oleg Gert. We wanted the overall design to give a sense of a ghostly nighttime feel. If you ever visit Barclay Mountain at night, you'll know the feeling we were trying to capture... magic and mystery.
Bicycle Barclay Mountain Playing Cards
Printed by THE UNITED STATES PLAYING CARD COMPANY
Premium Casino grade paper stock
Air-cushion embossed card finish
56 completely custom playing cards
Custom pips
Custom tuck box
Bicycle Barclay Mountain Playing Cards
Our Commitment
Packaged Securely
We pack each order carefully and passionately. Every package comes with maximum protection possible - just like how we like it.
Track Anywhere
We ensure that every package sent is fully trackable anywhere, anytime - leaving you worry free.
RunIt Experience
We strive to bring you the best experience possible. If you're not happy with your service, or something is wrong with your order, just let us know and we'll do our best to make it right. Contact Support
Customer Reviews
Authentic reviews from verified customers after their purchase.