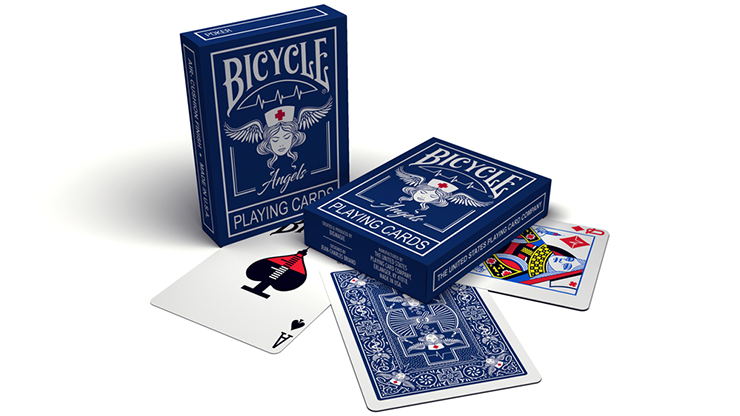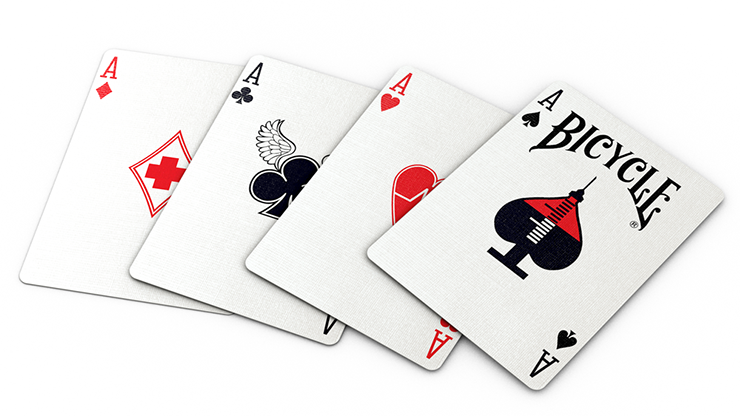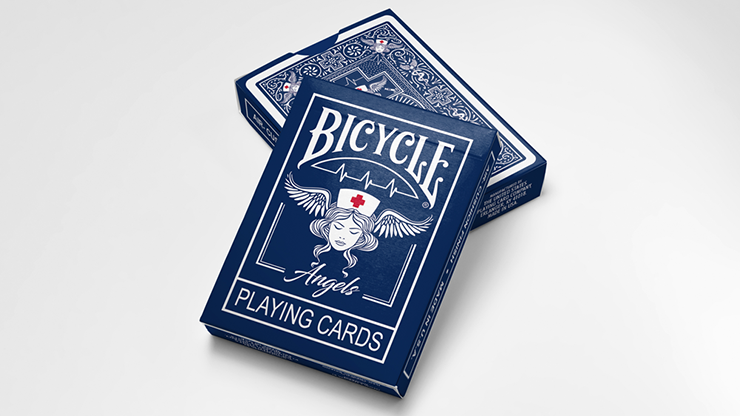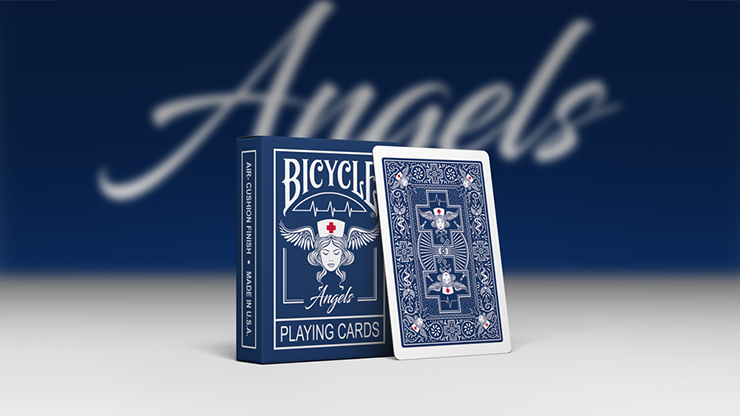 Bicycle Angels Playing Cards
---
---
With the Angels Playing Cards project, we wanted to pay tribute to the strength, the courage, the tenacity, and the rallying of all the medical staff working to support life every day all around the world. A project dedicated to those who are saving lives no matter what, a deck of playing cards to thank them.

FOR THE COLLECTORS, THE PLAYERS, THE MAGICIANS, TO BE GRATEFUL OR TO REMEMBER, TO SAY THANK YOU OR TO SUPPORT...

Angels is a deck designed for the collectors, the players or the magicians alike. A deck to say thank you, to support and to bring joy. Exceptionally made, it will be at the heart of your next party with friends. If you're a magician, its design will fit perfectly for performances in front of doctors, nurses, hospital magic, theme evening...

A UNIQUE DESIGN

Angels is a deck of playing cards at the effigy of all the medical staff. The idea was to stay close to the Bicycle® card designs (market leader), while adding unique medical touches to it. A contextual design admittedly, but definitely timeless. A deck and a name to say thank you and that we will not forget them either. A design by Jean-Charles Briand.

OUR MEDICAL ICON

Inspired by Athena's strength and Marianne's sense of liberty (symbol of the French republic), our icon embodies all the medical staff and their bravery even during the hardest times of our history. Drawn with a nursing cap, a stethoscope and crowned with angel's wings - she is at the centre of the healthcare system, thanking all these everyday angels, too often forgotten. With her fearless face, she inspires and gives trust to the next generations to come, promising a future where liberty and confidence can meet.

THE COURT CARDS

Based on the classic American poker design, we have added accessories and touches to all the face cards. In each pip, you will find an electrocardiogram wave, a sign of our court good health! Each face also wears an easily recognizable accessory such as a stethoscope, a syringe, a scalpel or even classical caduceus, international symbol of the medicine.

THE ACES

Often the best cards in a deck, each ace has been totally reinvented, redesigned. In the hands of Jean-Charles Briand, the Ace of Spades became a (quite big) needle, the Ace of Diamond a medical cross, the Ace of Club a little angel. The Ace of Heart, logically, was depicted with an electrocardiogram wave, and he's beating!

THE JOKERS

International symbol of healing and medicine, the Rod of Asclepius, a serpent-entwined rod wielded by the Greek god Asclepius, has been our pick to design the jokers. Crowned with a mirror, symbol of care, it refers to all the doctors and nurses fighting to save their patients. Along with wings, all these symbols have been implemented into a single letter.

THE BACKS

Dive into a universe lined by strength and wisdom, along with our medical icon. You will find her all over the backs and will even be able to discover other symbols such as our caduceus, discreet electrocardiogram waves and medical crosses. Each of the nurse's cap is tinted in red, adding a special something to the deep ocean blue.

A NAME TO PAY TRIBUTE

Angels - This is the name we wanted to give to all of those who've fought, still and will, day or night without respite to assist, help and treat us. Nurses, doctors, assistant nurses, ambulance drivers, stretcher bearers, radiologists, ER, surgeons, psychologists and more broadly all the medical and healthcare staff, on which we can count no matter what the circumstances are.

THE CARDS

Printed by the US Playing Card Company?- Poker size?- Air Cushion Finish and Magic Finish?- Fifty-Six Playing Cards with two Jokers and extra cards?- Perfect for all your card games or magic performances.

The deck is made up of 52 classic playing cards (with a rework on the Aces and the Court cards), 2 unique jokers and 2 extra cards: one with the Angels logo and one blank to be used in your magic tricks.
Bicycle Angels Playing Cards
Our Commitment
Packaged Securely
We pack each order carefully and passionately. Every package comes with maximum protection possible - just like how we like it.
Track Anywhere
We ensure that every package sent is fully trackable anywhere, anytime - leaving you worry free.
RunIt Experience
We strive to bring you the best experience possible. If you're not happy with your service, or something is wrong with your order, just let us know and we'll do our best to make it right. Contact Support
Customer Reviews
Authentic reviews from verified customers after their purchase.