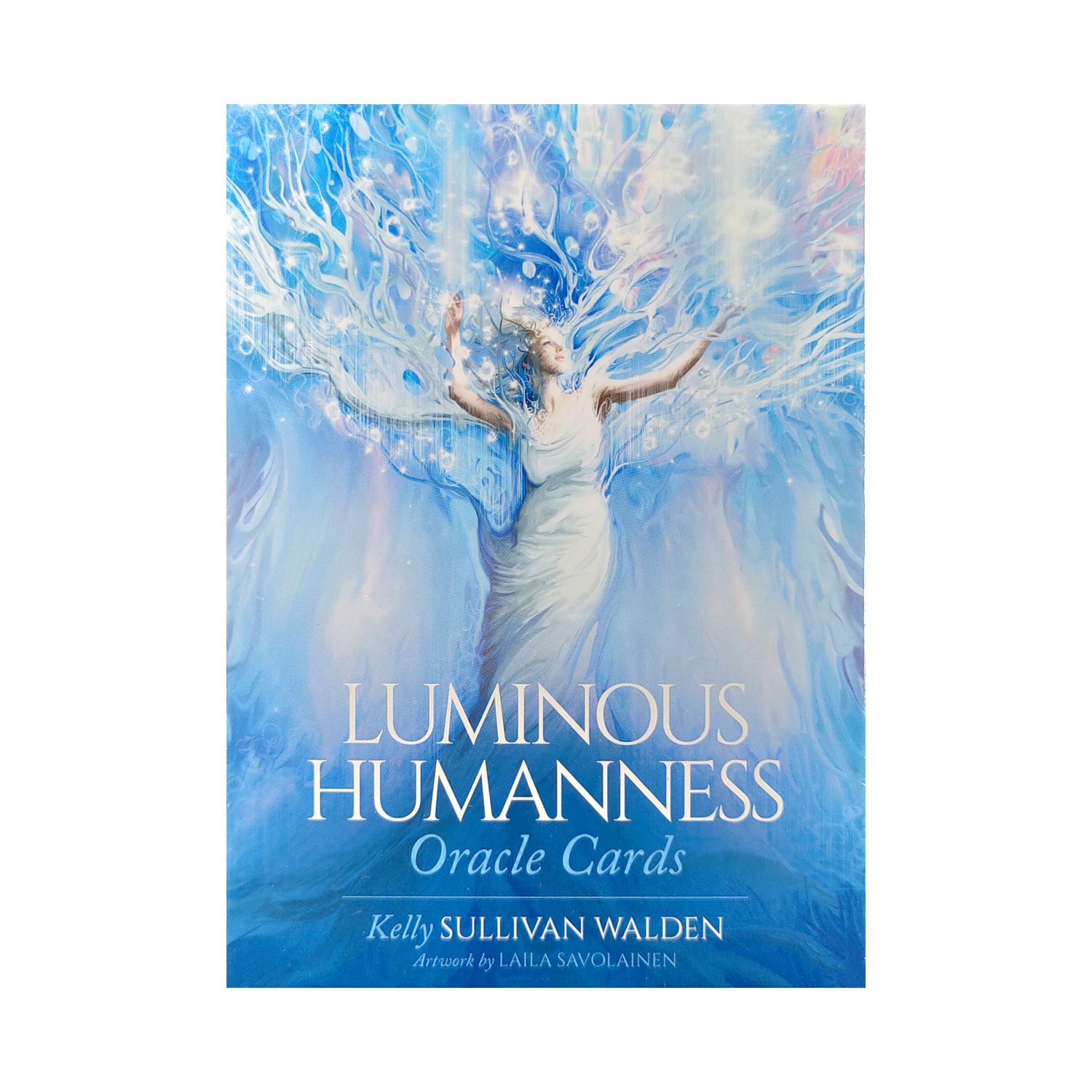 Luminous Humanness Oracle Cards
---
---
Description

INFORMATION

FAQ
To be luminous is to be at ease with your inner gold. In feeling and freeing your authentic, connected, and whole self, your light illuminates your path and possibilities so you can move forward in confidence and clarity, excited for all that awaits you. Bestselling author Kelly Sullivan Walden rolls insight, imagination, and joy into this gorgeous oracle, elevating perspective and turning everyday tedium into treasured moments and glowing experiences. Laila Savolainen's artworks allow you to hold the transcendent in your hands and its truths in your heart. Play with these cards for a few minutes each day to invite a more radiant life to meet you, wherever you are at.
Includes 44 cards and 116-page guidebook.
Author Kelly Sullivan Walden is on a mission to awaken the world to the power of dreams. She is a multi-award-winning author, certified clinical hypnotherapist, inspirational speaker, and workshop facilitator. Kelly's unique approach to dream therapy has made her a trusted advisor, coach, and consultant. Kelly and her husband, Dana, co-founded The Dream Project and CHIME IN: youth-empowerment initiatives and produced the award-winning 2019 World Film Festival short film entitled, The Ferlinghetti School of Poetics. Her inspirational titles include Awakened Dreamer, Dream Goddess Empowerment Cards, Dia de los Muertos Oracle, and award-winning The Hero's Journey Dream Oracle.
Artist Laila Savolainen's days and dreams are filled with nature and infinite magic. On her creative journey, Laila has been a student and teacher of art therapy and counselling, energy healing, and oracle readings. Her fine art and commercial artistry can be found in stores, theatres and private art collections worldwide. Laila's creations continue to straddle the corporeal and the magical in-between. Her artworks are featured in Star Temple Oracle, Water Temple Oracle, The Oracle of Portals, Astrology Oracle, and more!
Author: Kelly Sullivan Walden
Artist: Laila Savolainen
ISBN: 9781646711444
Dimensions: Box measures 4.9" x 6.7" x 1.37"; 44 cards measure 3.34"x 5.47"
What is the difference between Tarot, Oracle, and Lenormand?

Tarot decks are the oldest and most well-known type of divination decks. They consist of 78 cards, divided into the Major Arcana (22 cards) and the Minor Arcana (56 cards), and are used to provide insight into the past, present, and future. Each card has a unique image and symbolism, and readers use their intuition, knowledge of the cards, and other divination techniques to interpret the meaning of the cards.
Oracle decks, on the other hand, are a more modern type of divination deck that does not follow a specific structure or format. They can vary widely in terms of the number of cards and the images and symbols used. Oracle decks can be designed around specific themes, such as angels, animals, or chakras, and are often used to provide inspiration and guidance for personal growth and spiritual development.
Lenormand decks are a specific type of divination deck that originated in Germany in the 19th century. They consist of 36 cards, each with a simple image and meaning. Lenormand decks are used to provide practical guidance for everyday situations, such as work, love, and health, and are often used in combination with other divination techniques, such as tarot or astrology.
Luminous Humanness Oracle Cards
Our Commitment
Packaged Securely
We pack each order carefully and passionately. Every package comes with maximum protection possible - just like how we like it.
Track Anywhere
We ensure that every package sent is fully trackable anywhere, anytime - leaving you worry free.
RunIt Experience
We strive to bring you the best experience possible. If you're not happy with your service, or something is wrong with your order, just let us know and we'll do our best to make it right. Contact Support
Customer Reviews
Authentic reviews from verified customers after their purchase.