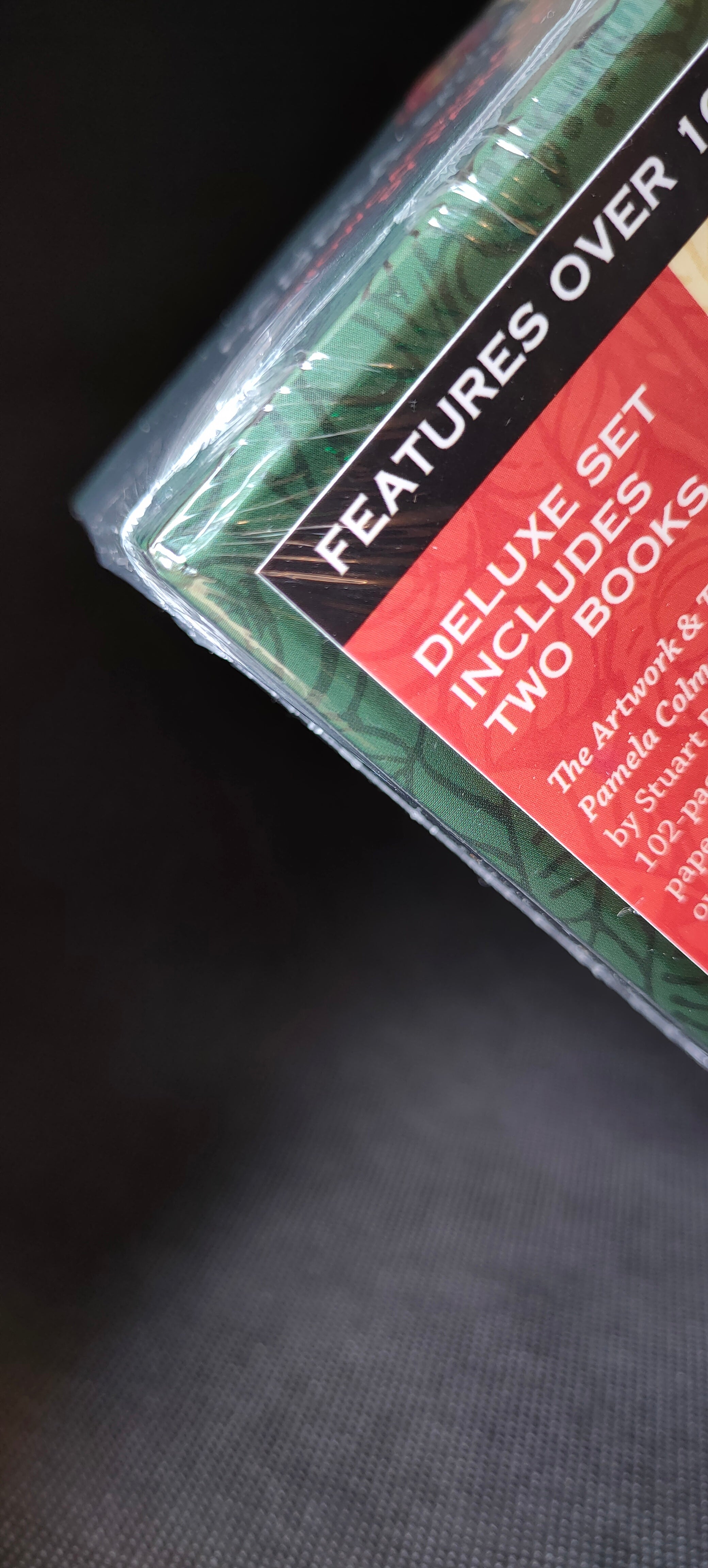 Pamela Colman Smith Commemorative Set Tarot Cards
---
---
Description

INFORMATION

FAQ
NOTE: Has box imperfection. Please see image.
Celebrating the 100th Anniversary of the Rider-Waite Deck, the Pamela Colman Smith Commemorative set will be cherished by all tarot collectors and art lovers.

The deluxe set includes the Smith-Waite Centennial Tarot Deck and two books; The Artwork and Times of Pamela Colman Smith, by Stuart R. Kaplan and Lynn Araujo, with over 100 examples of her non-tarot art, and The Pictorial Key to the Tarot by Arthur Edward Waite, in a new format. The Smith-Waite Centennial Edition Tarot Deck is reproduced from the original 1909 deck and comes with a 78-card deck with drawstring organza bag.

The set also includes: 2 prints of Pamela Colman Smith, one photo and one self-portrait, both 5" x 7" suitable for framing; six color postcards of artwork by Pamela Colman Smith; and Spread Sheet Guide. Everything is attractively packaged in a deluxe keepsake case.

About Pamela Colman Smith
She was born February 16, 1878, in Middlesex, England to American parents. Her childhood years were spent between London, New York, and Kingston, Jamaica. During her teens, she traveled throughout England with the theatre company of Ellen Terry and Henry Irving. Thereafter, she began formal art training at the Pratt Institute of Brooklyn, graduating in 1897.

Although American by birth, she returned to England, where she became a theatrical designer for miniature theatre, and an illustrator -- mainly of books, pamphlets and posters.

Around 1903, she joined the Order of the Golden Dawn. In 1909, under the guidance of Arthur Edward Waite, she undertook a series of seventy-eight allegorical paintings described by Waite as a rectified tarot pack. The designs, published in the same year by William Rider and Son, exemplify the mysticism, ritual, imagination, fantasy, and deep emotions of the artist.

Pamela Colman Smith would all but be forgotten except for the seventy-eight tarot paintings known as the Rider-Waite Tarot pack. She would no doubt be astonished and gladdened to know that today the deck touches the hearts and emotions of millions of people.


Specs

Weight
2.77 lb(s)
ISBN
978-1-57281-639-8
Size
Case measures 5.25" x 7.25" x 3" ; Cards measure 2.75" x 4.75"
Language
EN
Author
Stuart R. Kaplan, Lynn Araujo
Artist
Pamela Colman Smith


Author: tuart R. Kaplan & Lynn Araujo
Artist: Pamela Colman Smith
ISBN: 9781572816398
Dimensions: Case measures 5.25" x 7.25" x 3" ; Cards measure 2.75" x 4.75"
What is the difference between Tarot, Oracle, and Lenormand?

Tarot decks are the oldest and most well-known type of divination decks. They consist of 78 cards, divided into the Major Arcana (22 cards) and the Minor Arcana (56 cards), and are used to provide insight into the past, present, and future. Each card has a unique image and symbolism, and readers use their intuition, knowledge of the cards, and other divination techniques to interpret the meaning of the cards.
Oracle decks, on the other hand, are a more modern type of divination deck that does not follow a specific structure or format. They can vary widely in terms of the number of cards and the images and symbols used. Oracle decks can be designed around specific themes, such as angels, animals, or chakras, and are often used to provide inspiration and guidance for personal growth and spiritual development.
Lenormand decks are a specific type of divination deck that originated in Germany in the 19th century. They consist of 36 cards, each with a simple image and meaning. Lenormand decks are used to provide practical guidance for everyday situations, such as work, love, and health, and are often used in combination with other divination techniques, such as tarot or astrology.
Pamela Colman Smith Commemorative Set Tarot Cards
Our Commitment
Packaged Securely
We pack each order carefully and passionately. Every package comes with maximum protection possible - just like how we like it.
Track Anywhere
We ensure that every package sent is fully trackable anywhere, anytime - leaving you worry free.
RunIt Experience
We strive to bring you the best experience possible. If you're not happy with your service, or something is wrong with your order, just let us know and we'll do our best to make it right. Contact Support
Customer Reviews
Authentic reviews from verified customers after their purchase.